A taste of the old and the new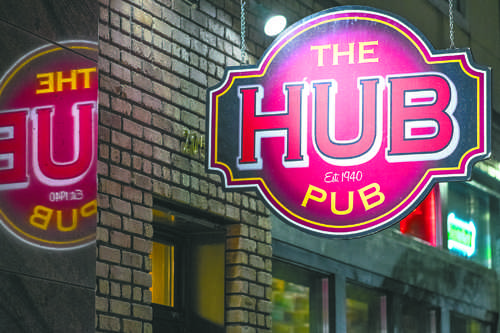 Downtown Grand Forks is a hot spot for food, drinks and hangouts. Typically known for its buzzing nightlife, the downtown area is also home to many options for a fun and casual lunch or dinner.
Now under new ownership, the Hub Pub (previously known simply as the Hub), has a new look, menu and hours. Whether you're looking to grab a quick lunch, have a fun and casual dinner or meet up with friends for a few drinks, this is definitely a place worth checking out.
Open Monday through Saturday from 11 a.m. to 2 a.m., and located on North 3rd Street across from the Toasted Frog, the recently redesigned Hub Pub serves bar foods that go great with a beer or soda. The menu features moderately priced burgers, wraps, sandwiches, salads and appetizers; expect to pay about $15 to $25 for a full meal with drinks.
For a great deal, take advantage of their happy hour Monday through Friday from 4-7 p.m. and enjoy half price appetizers and $2.50 domestic pints and rail drinks. 
With 16 different beers on tap and a selection of actually delicious appetizers, I recommend stopping in with your friends for the happy hour deals before your night out.
The kitchen serves a variety of wraps, tacos and burgers worth mentioning. The baja chicken wrap ($9) comes with shredded chicken in a jalapeño pineapple BBQ sauce, fresh pico de gallo, lettuce and cheese. Ever had a delicious cuban sandwich at the ballpark? Well, here at the Hub Pub, they took that classic and put it inside a wrap for a tasty remix. The herb garlic grilled shrimp taco ($10) will do the trick if you're craving seafood.
I tried the jalapeño cheese curd burger ($11), and to be honest, it was pretty average. As a guy who has eaten more than his fair share of hamburgers, I can be a tough one to impress.
However, I've been told by friends about other items that are much more noteworthy. The grilled cheese, for example, is loads better than what one might make at home. For $8, you can choose between american, swiss, cheddar or pepper-jack cheese, and you can add bacon for $1 or tomato for $0.75. Looking at past experience, I would add both. I've also heard good things about their beef philly. For $10, it's got your standard prime rib beef with peppers, onions and jalapeño cheese sauce.
During dinner, all of the menu items are served with waffle fries and gravy or onion rings. At lunchtime, the menu prices are reduced, but if you want a side you have to add potato chips, waffle fries or onion rings for between $1 and $3, respectively.
The last thing I want to say about the food is this: get the poutine. French fries and jalapeño cheese curds are topped with peppercorn gravy for $6. This stuff is to die for. Believe me, due to the ridiculous nature of that phrase, I rarely say it. Seriously, it's awesome.
The atmosphere in the new Hub Pub is casual but classy. It has the sleek, modern look of a bar you'd find in a bigger city where you pay $7 for a mixed drink. Luckily, the prices here match those of the other spots downtown.
There's a handful of booths and plenty of seating at the bar, with a pair of TV's; perfect for watching the game. When you walk in you see a large mural on the wall depicting the building, which I thought was a really cool idea. There are blackjack tables and a dart board in the back to satisfy your gaming needs.
The staff is experienced and friendly. If you have questions about anything they will be happy to help you out. Located in the strip of popular, busy bars downtown, these servers and bartenders meet the skill standards that are expected by customers.
If you haven't yet, definitely check out the Hub Pub for lunch or on your next night out.
Ben Godfrey is a staff writer for The Dakota Student. He can be reached at [email protected]