"A Man of No Importance" impresses the crowd
The year is 1964 in Dublin, Ireland. Alfie Byrne (Tyler Folkedahl) is the director of an amateur theatre troupe which has been shut down by Father Kenny (Matt Stevens). Alfie wants to stage a production of "Salome" at his church, where the theatre troupe is based, despite the objections of church authorities.
"Musicals are always a big undertaking, but I think our faculty is so professional," Folkedahl said. "They do a good job of keeping us on track."
As Alfie reflects on the events which have transpired, the actors in the group take him through a typical day of "A Man of No Importance," in which he is not the director but the star. As the play unfolds, the people in Alfie's life appear: his sister Lily Byrne (Emily Taylor), a bus driver Robbie Fay (Joe Picardi) and newcomer Adele Rice (Ashley Restemayer).
Alfie, who is also a bus conductor, performs by speaking Oscar Wilde's (Caleb Van Ornum) words to Adele, impressing the bus passengers who are members of the acting group. As Alfie prepares dinner for himself and Lily, he tells her that he has met a woman. Lily has delayed marriage with Carney (Karter Dolan) to take care of Alfie until he marries, and is happy for him in the song "Burden of Life."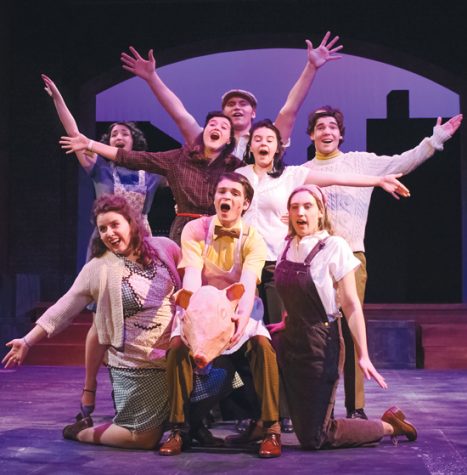 Alfie explains that he is not interested in marriage to Adele — he wants her to act in "Salome." Frustrated, Lily scolds Alfie for wasting his time in amateur theatre. After an evening in a pub, Alfie returns home confused about his true identity. As he gazes at himself in the mirror, he sees Oscar Wilde in a dream, and admits that he loves Robbie in the song "Man in the Mirror."
Lily invites Adele for Sunday dinner, saying that Alfie is hesitant to speak for himself in the reprise of "Burden of Life." As Alfie is walking her home, Adele tells him that in her hometown she has a boyfriend, John, and starts crying. Empathetic towards holding onto a big secret, Alfie councils her in the song "Love Who You Love."
When Breton Beret (Wesley Curtis) propositions to Alfie, Alfie is trapped between his own shame and desire, but Oscar Wilde advises him that the way to eliminate temptation is by giving in.
As Mrs. Patrick (Bethany Springs) sings the hymn "Our Father," Alfie is confessing his minor sins to Father Kenny. Alfie hears Robbie in a disembodied voice, but he cannot confess to his feelings of love towards Robbie in the song "Confession."
The acting group is rehearsing when Adele suddenly cries and tells Alfie that she is pregnant, then leaves. At an emergency church meeting for the play, Monsignor cancels it and orders that the St. Imelda's Players be ended. Alfie, feeling sad, goes to the pub and proposes to Beret. Beret takes Alfie's hand and caresses him. Then Alfie gets jumped by Beret. Others beat him and he asks for Robbie.
Lily and Carney take Alfie home, but the news spreads that Alfie is gay.
Finally, Alfie is alone at St. Imelda's hall and thinks back on his life, coming to know that he can no longer hide in the song "Welcome to the World"."
Robbie walks in to join the acting group, and all seems well in the world now. Robbie finishes the production by reading a passage from Oscar Wilde.
"Working with a set group of people in a collegiate program, you get to see each other grow and it's easier to perform with people when you have that comfort in knowing who they are," Folkedahl said.
I was impressed by the actors ability to perform a play within a play. With musicals in particular, it can be difficult to have interesting choreography with a lot of song and dance breaks.
One of the highlights for me was to see Beret emoting a rockstar on-stage while sweeping the ground with a broom, and the large group choreographed movements.
"I hope that the show has been able to reach the audiences that need it in a time like this," Folkedahl said. "My hope as an artist is that I can tell stories and show people the life of someone they might not have seen before."
The next UND Theatre production is "The Nether" which will run from Feb 25-29 in the Burtness Theatre starting at 7:30 p.m. The box office opens Feb 6. Call 701-777-2587 or come to our theatre lobby in person to reserve your seat.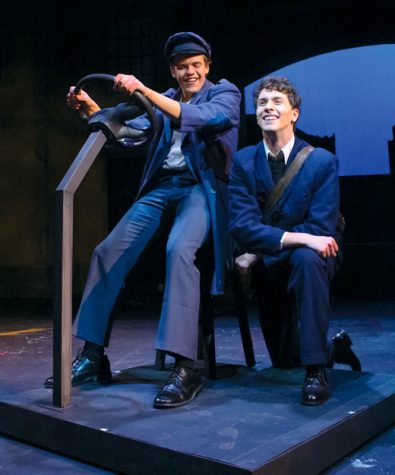 Nick Sallen is the editor-in-chief for the Dakota Student. He can be reached at [email protected]