Australia arrives at the Loading Dock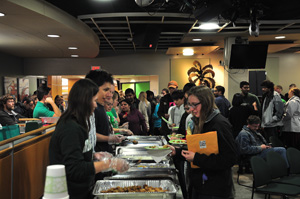 Australian culture was on full display at the Loading Dock Thursday night with music, food and history.
UND student and Australian native Tamara Auer was the organizer and host for the night.
The night began with a slideshow covering Australia's geography, restaurant etiquette, food and other cultural facts. Auer had the slides arranged as a game for the audience to test their knowledge on the continent-island.
Following the slideshow, a few friends joined Auer on stage to play cultural music. The music was the main attraction for the event for both the audience and Auer, who has a strong passion for music. Before coming to the United States just last January, she studied music for eight years in Italy.
The selection of music was Australian Folk music; a genre well-studied by Auer.
"I got an opportunity about two years ago in Australia to play a lot of Australian Folk music," Auer said. "It was the early colonial Australian Folk music. I thought it would be nice to share it with everyone."
One song that was given the most attention was "Waltzing Matilda," which was described as the "unofficial anthem for Australia."
While music was playing, volunteers handed out samples of Australian cuisine, including Anzac biscuits and sausage rolls.
Auer suggested "Australia" as the theme for the event. She jokingly said she was put in charge because, "I'm the only Australian here to do it."
Auer is a regular attendee for UND Culture Nights. Through this and attending the International Students orientation, she was able to make the necessary connections in order to develop the event.
"It's an opportunity to let our students share a lot about who they are and their perspective and to kind of encourage other UND students to recognize that they live in a global community,"  International Students' Advisor Anna Kinney said. "I think that's exciting, and I think for UND then, by extension, Culture Nights are an opportunity to recognize and honor the diversity on our campus."
Kinney, who also spent time studying abroad, finds these events to be a unique opportunity for international students to represent their cultures and heritage with curious students.
"The community at UND is eager to support our unique and diverse student population," Kinney said. "I think it also creates a sense of hope on this campus, especially in light of recent events that the overwhelming majority of students are tolerant, curious and supportive of each other and that's encouraging. And I think that shows the character of UND."
The night was run comparatively to how Auer would describe the people of Australia: "easy-going and relaxing."
Jacob Notermann is a staff writer for The Dakota Student. He can be reached at [email protected]