Constellations makes its appearance at the Empire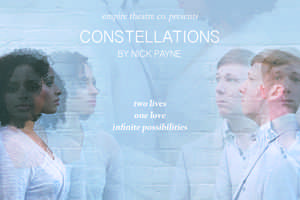 The audience sat on the stage in a diamond with bulbs strung from the ceiling and white paint splattered on the ground, looking like the sun in an odd way.
A small platform was centered in the middle of the diamond that was the audience. Nick Payne's "Constellations" was set up in an intimate way to say the least.
The two-actor cast had an impressive background and it showed throughout the play. Roland, who is played by Nick McConnell, is an up and coming beekeeper who meets Marianne, who is played by Nicque Marina Robinson-Dela Cruz.
Marianne, a theoretical physicist, explains how in the quantum multiverse "every decision you've ever and never made exists in an unimaginably vast ensemble of parallel universes."
Payne sets up the play where the audience can follow each universe within the multiverse and the outcomes of the choices that are made.
Lights set apart the different universes, making it clear the repeated lines are the choices of a different Marianne and Roland from a different universe.
These repeated lines weren't ever the same. When repeated, the actors approached the line in a new light as if it were their first time saying it. The whole mood changed with each flash of purple light.
The characters reacted to each other over the same set of lines that led to a different conclusion. It was apparent the decisions the characters "ever and never made exist in an unimaginably vast ensemble of parallel universes."
"Constellations" was different from anything I had ever seen before.
The actors seemed to be very skilled in their sudden change in moods while traveling from universe to universe. In a moment, the space was filled with anger until the purple lights flashed bringing the audience to a separate universe where the same lines were repeated, but this time the words were calmed.
It jarred the audience and left room for interpretation. You never get the full story from Marianne and Roland, but their chemistry is undeniable.
McConnell and Robinson-Dela Cruz use the small space they were given and limited props to create a whole timeline of the character's relationship, or lack there of. The actors use their own voices to create the world that is "Constellations."
I was utterly amazed by the play. The story line, although jarring, was easy to follow and held an intensity I have never seen from the size of the cast "Constellations" had.
"Constellations" struck me and I was hungry for more when the actors stepped on the small platform and bowed to the condensed audience. I couldn't move from my seat for a moment because I was shocked into this state of amazement.