UND Writer's Conference awards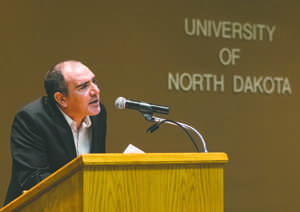 The UND Department of English honored 11 students with scholarships for their hard work and accomplishments on Friday, Oct. 14.
During a Writer's Conference at the Memorial Union, 11 of the 17 scholarship recipients were publicly recognized and applauded. The recipients included two sophomores, three juniors, four seniors and eight graduate students.
Criteria for the awards include "undergraduate majoring in English," "planning a career as a secondary English teacher" and even "good moral character with personalities and attitudes that suit them well for the continued study of English."
"They will go on to keep the literary arts alive in various ways. Morphed as they may be in this coming century," UND Chairman for the Department of English Eric Wolfe said.
Following the ceremony, the UND Writers Conference hosted author Aaron Poochigian.
Poochigian is an award-winning author for his poetry works. His first original piece was "The Cosmic Purr," which was published in 2012.
Poochigian read from his new thriller "Mr. Either/Or," a choose-your-own-adventure in the form of a verse-novel.
In the story, the reader is a secret agent attempting to save NYC from a powerful gang of thugs. The goal is to recover a box containing "something dangerous."
Throughout the story, there are fight scenes, puzzle solving and a love interest with a faithful sidekick.
Before being consumed by the plot, the style of writing draws interest for the reader. A verse novel is written in a stanza-like fashion similarly to a Shakespearean play.
Poochigian chose this style of writing to allow him to combine narrative with his love for poetry.
He discusses how, over time, English literature shifted to away from this style of writing. He says the transition was "inevitable" due to the "late emergence of the novel."
This novel was his attempt to revive the dying art. He utilizes the tools the style offers, saying the reader obtains a more "immersive experience" than that of a regular novel.
"It's more like a film than a novel. In that, you have a sound track," Poochigian said. "The meter provides a sound track. I can shift the meter to shift the pacing, just like in a movie when the music shifts to let you know what kind of scene you have."
"Mr. Either/Or" is set for release in the fall of 2017.
Poochigian was also recognized for his translations of famous works, including "Appollonius' Jason and the Argonauts."
He received his PhD in Classics while studying at the University of Minnesota as well as an MFA in Poetry from Columbia University.
Jacob Notermann is a staff writer for The Dakota Student. He can be reached at [email protected]