Wind ensemble delivers first performance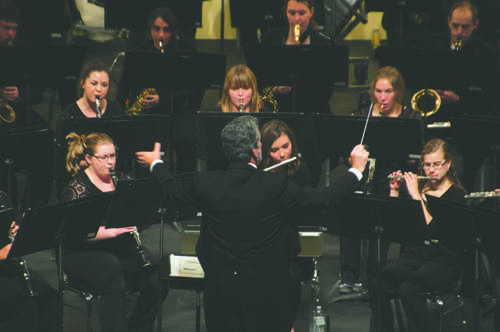 Wind Ensemble Kicks Off!
The UND University Band and the Wind Ensemble took the Chester Fritz stage Tuesday night for its first formal concert of the year.
The entirety of the concert was under the direction of conductor and UND Director of Bands, Dr. James Popejoy.
"This is a performance learning lab," Popejoy said. "We're excited to share our music we've been working on to share with the public."
In the concert, the University Band covered 5 pieces, including a piece from the American western film The Magnificent Seven. The Wind Ensemble played in the later hour, where the students played 6 pieces. One of the pieces, Bugs by Roger Cichy, was made up of six movements and captivated the audience for marathon 17 minutes.
For Popejoy and the faculty, the purpose of a concert goes beyond displaying skill development.
"We are very much committed to teaching through performance," Popejoy said. "It is ensemble.
It's not just about preparing some notes and rhythms and hope it's correct. It's a chance to learn music through the performance of it."
For some of the students, it was their first time playing in the Chester Fritz, but that did little to bring any nerves to these students. Many of them possessed confidence to not wince at the thought of playing on the big UND stage.
For students like UND freshmen Madison Diemert and Tess Lunquist, it's easy to explain why nerves don't flare.
"Back in high school, I was in every single band they had to offer," Lundquist said. "You just kind of get used to it."
"I've been in band since the 5th grade," Diemert said. "We all have. It's a really chill atmosphere."
Despite the blunt confidence from his students, Popejoy still finds a value to pre-show nerves even after serving 17 years as Director of Bands.
"I think all musicians will tell you that there's a little bit of nervousness for any performance," Popejoy said. "It kinda gets your adrenaline flowing; get you going."
Students also find confidence through working with Popejoy. During rehearsal before the show, he was going over the process of the concert step-by-step, telling students to "just relax and enjoy the music making process."
Jacob Notermann is a staff writer for The Dakota Student. He can be reached at [email protected]