Rhombus Guys, brewing up a storm!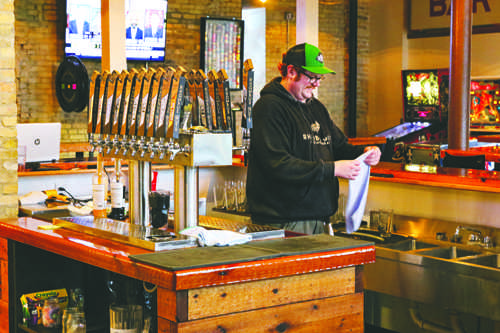 Founders talk about their well deserved success
For two lifelong friends from a small Minnesota town, it was the desire to be held accountable only to themselves. They sought out to see an idea through to the end and to thrive off their success.
By being kept sharp with fear of what lies behind failure that has inspired their careers, they found success. These two friends, and cofounders, have been living by that philosophy since the summer of 2000.
16 years later, Arron Hendricks and Matt Winjum have made a name for themselves throughout the Grand Forks community with their award-winning pizza restaurant, "Rhombus Guys."
It all started on Arron Hendrick's 18th birthday with a simple idea. Take the money they had saved up in their pockets, put it toward a few supplies to build a smoothie stand and if things work out, end the summer with their original dollars back, plus more.
"At the same point in our lives we were realizing there are no limitations on what a person can do and if you want to be business owners at 19 or 20 years old, you can do that," Hendricks said. "I think it was just two people having a like mind at the same time."
Two summers later in the spring of 2002 and with what most would call trivial experience, the two opened their first full service restaurant. A pizza restaurant around their hometown in Maple Lake, Minn., "Rhombus Guys House of Pizza," named after the unintentional shape of their smoothie stand from two years back.
"A large part of why we did all these things is because we were so young," Hendricks said. "Youthful people sometimes have a sense of invulnerability, infallibility – if that's even a real word, see I'm making things up. That's what entrepreneurs do."
Fast forward four years after having opened "Cafe Rhombus" in Thief River Falls, Minn., taking on an additional partner, going to school, while still running their original creation, "Smoothie Rhombus," the business owners realized something. Much of their restaurant's customer base was from out of town, taking weekend trips or on vacation and they were all coming from Grand Forks.
In early 2007, Rhombus Guys was born in Grand Forks.
The two worked long hours, for the first months of business as they worked to bring the Rhombus brand to a place somewhat unfamiliar.
Although they had a considerable customer base in the area already, it did not come without its challenges.
Tough business in the Thief River location forced the duo to close down their hometown operation.
"We had to let people go who'd been there from day one and watch something go that we'd built from the ground up … although it was a highly difficult decision, it was one of the best decisions we've ever made," Winjum said. "Closing the doors to Cafe Rhombus allowed us to expand everywhere else we were and with everything we've ever dreamed of doing."
Coming back to Grand Forks, a local competition between the pizza restaurants in town awarded Rhombus Guys the People's Choice Award for best pizza of Grand Forks and the restaurant would go on to win five more times in less than a decade.
"That was probably the single best moment because we'd been working so much for all these years and we had struggled with the place in Thief River Falls, but to come here and have that hard work pay off was a great moment of redemption," Hendricks said.
The most recent endeavor of the two has been to open a brewery and restaurant. In Sept. 2015, Hendricks and Winjum made it a reality with "Rhombus Guys Brewing Company" located across the street from their famed restaurant.
"It's a completely new business model. We knew there would be challenges and a learning curve. You can do as much research as you want before you open a business – talking to people, reading up – but nothing will prepare you for the day you open the doors," Winjum said.
The brewery sends out kegs to the surrounding areas of northwestern Minn. and eastern N.D. The production type operation is a completely new arena for the team, in addition to creating a restaurant of the same brand, but with a distinctly different product.
Despite the Rhombus brand edging on 15 years, starting a brewery has been a goal since the beginning for Hendricks and Winjum.
"The brewery has been a dream of ours forever. Ever since marketing class in high school, it's something we've thought about," Winjum said. "We just sort of took the long way there."
One year after the open of the brewing company, the everyday challenges of running a successful business are moving to the forefront, and it's those that will ultimately decide the fate of the business explained Hendricks.
"Staying alive and relevant," is the company's main focus for now, Hendrick's said.
Declan Hoffman is a staff writer for The Dakota Student. He can be reached at [email protected]