Grand Junction is indeed grand!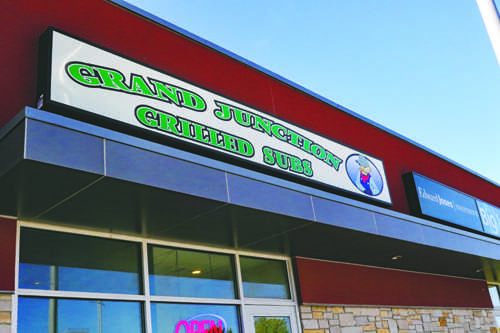 Grand Junction Subs is a delicious sandwich spot I only just recently discovered at the end  of last year. After my first visit, I was surprised I had never been to the location before, as the delicious sub I ate left me craving for more.
Grand Junction Subs is a local North Dakotan owned business located close to campus on 42nd street right next to Tim Hortons.
It's a fairly small restaurant, with only a few tables and a long grill.
The chain originally started in Fargo and strives to offer tasty, grilled sub sandwiches and homemade fries at a pretty affordable price.
I recently decided to revisit Grand Junction Subs for what would hopefully be the satisfying lunch I remembered.
Right when I walked into the restaurant, I was welcomed by the warm smell of grilled meat and greasy fries.
The friendly staff greeted me right when I walked in the doors.
As I stepped up to the counter, I took some time to look over the menu and weigh my options. I decided to try the chicken cordon bleu sub sandwich.
This delicious creation is made with chicken breast, ham, Swiss cheese, tomatoes, lettuce, honey-mustard and mayo.
Before ordering the sandwich, I had the option of making it a small, regular or large sandwich combo. I ordered the small sub, as it was only $4.89 and reasonably priced for my budget.
The unique thing about Grand Junction Subs is all of their gourmet subs are cooked right in front of you and made with freshly baked French bread. 
I eagerly watched the cook make my sandwich on the grill as my taste buds watered.
After my sandwich was fully cooked and handed to me, I decided to add some of their fresh-cut fries to my order.
I watched the fries get dunked into the oil and get seasoned to perfection right in front of me.
After I paid for my meal, I decided it was time to dig in.
My sandwich was piping hot, dripping with gooey cheese and sauce. In fact, there was so much warm sauce dripping from my sandwich onto my fingers I couldn't unwrap the sub out of its packaging.
But that isn't necessarily a bad thing.
Everything was cooked to perfection. The meat was tender, the cheese was thick and gooey and the bread was soft and warm.
The fresh cut fries were crunchy and packed with a delicious flavor.
I walked away from my visit feeling more than fulfilled.
I highly encourage anyone looking for a quick, satisfying bite to eat to check out Grand Junction Subs, as the subs are truly grand.
Amanda Hefner is a staff writer for The Dakota Student. She can be reached at [email protected]