Fred Eaglesmith rocks the Empire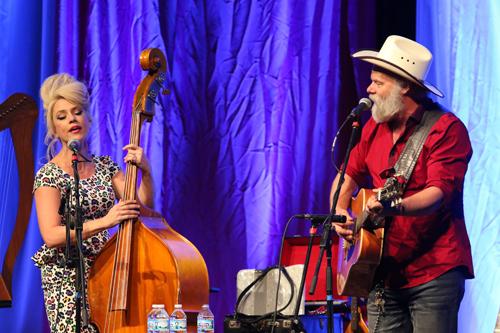 A lively, original performance filled with a night of unique entertainment featuring non-traditional country music for the Grand Forks community, 'Fred,' as his fans call him, Eaglesmith's Travelling Steam show is no typical concert. 
Fred's appearance, hosted by The Empire Arts Center in downtown Grand Forks and sponsored by the North Dakota Museum of Art (NDMOA), was only organized on a whim outside the dates of the Center's normal summer session to cater to the positive community response from Fred's last visit, NDMOA Associate Director Matthew Wallace explained.
"The opportunity came up, and we did everything we could to make tonight happen," Wallace said.
From the very beginning, his fans have been behind him. The crowd was filled exclusively of long-time Fred followers, Wallace explained.
Finding a single individual in the crowd who has never heard of the Canada born alternative country singer-songwriter would be a hardpressed task. Fargo, Dickinson or Minneapolis–it did not matter. The drive was no deterrence for those from towns so far. It was just something they had to do Jacob Lamb explained, a dedicated Fred follower and Fargo resident who made the drive for Fred's Grand Forks show.
"I've always been a huge fan of Fred's since he started many years ago and have always made an effort to make it out to all the shows that I can," Lamb said.
Alongside his co-performer, Tiffani Ginn, Fred's show based around his loosely current set and thirty year history of songs, but relied heavily on his genuine ability to entertain. Using the guitar and vocals or not, Fred had the crowd amused until the last second he was onstage.
Among the audience members conversations during intermission, the consensus was clear. "He's a great time whenever I see him, no matter where he is." "We all love Fred … I never regret coming to any of his shows. Tonight's been a real show. I hear he's really going to bring it out in the second half, though, that's really what we all came here for and what we can't wait to see."
Even tracing back to 1980 with the release of Fred's first album titled after himself, in addition various unofficial releases from decades before, his fan-base seems to have remained loyal. Those that followed him then, still do today. Since "Fred Eaglesmith," 20 more albums have been consistently released since, with the most recent being "Tambourine" (2013).
Fred's music has also had its fair share of appearance on mass-produced media. "Broken Bridges" (2006) and "Losing Faith" (2003) are two feature films that have included Fred's singles in their productions. It is not longer the songs that Fred is known for as much his character and ability to stand up in front of a filled auditorium and entertain for three hours.
"Tonight is definitely not Fred's normal type of show. He seems to be trying a few new things like the dialogues he's been having between him and the audience in between songs … I'm really enjoying it. It's new and I'm having a good time," Lamb said.
Fred's tour continues into central Canada with three shows in the Saskatchewan province and three more in Alberta province the week after.
"Fred's been great for The Empire, he's doing great, and it's a great time being able to host someone like him," Wallace said.
Declan Hoffman is a staff writer for The Dakota Student. He can be reached at [email protected]