Joggin' with Josh, 5k held by the med school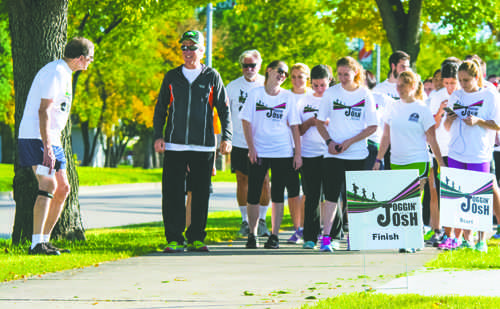 Originally conceived by Joshua Wynne, dean of the School of Medicine and Health Sciences (SMHS), six years ago. 'Joggin' With Josh' has been working to raise awareness among the UND student body and the surrounding Grand Forks community about healthy lifestyle choices, focussing on how adequate exercise can reduce the odds of developing life-threatening diseases.
The event held Thursday was aimed at getting anyone, regardless of skill level, to take part in the social, low-stress run and learn about all the benefits regular exercise can award any individual. With route ranging from one mile, 5K, or 10K, participants were welcomed to attack their route of choice with a walk, jog or run, creating a non-competitive environment. 
"We want people to get out and run, jog, walk–just get out and exercise," Wynne said.
This year's run involved a start at the East Atrium of SMHS with routes through campus and along the coulee, ending back at the SMHS.
Originally planning on a run two weeks prior, organizers of the event decided to push back the date due to adverse weather conditions on the day initially planned for the run. Over forty participants from SMHS, undergraduate studies at UND and the surrounding UND community jogged with Josh.
"Even though the overall number was down, we were very pleased with the turnout of community members. For the first time, part of the course was set along the bike path next to the English Coulee. Participants enjoyed the course along the Coulee at a beautiful time of the year," SMHS assistant director of Alumni and Community Relations Denis MacLeod said.
Among the pre-race chatter between participants were chuckles as runners shared their motivations for joining in.
"I'm hoping I'll be able to set a new habit with myself today," MacLeod said. "This might be the longest run I take in a very long time. There definitely needs to be more things to raise my awareness of the importance of exercise. I'm just out here hoping to finish. Prevention is integral to good health. And being active is a key component to a healthful lifestyle. We have young and old participants. Parents bring infants in strollers and have a great time in a family friendly event. We even have four-legged participants run."
Much has been said by those close to Wynne about his drive to bring awareness throughout the community directly related to a field that he has spent his life working to improve.
"This event is very telling of Dr. Wynne's commitment and dedication to enhancing the health of community members, students, faculty and staff through the promotion of a healthful and fun activity that doesn't require anything other than getting on your feet and enjoying the company of others in a basic, uncomplicated exercise," MacLeod said.
The ultimate goal of 'Joggin' With Josh' is to inform the community of the simplest, yet most effective forms of preventive medicine. Not only are there long-term benefits to chronic health conflicts, but countless short-term issues can be avoided simply by staying active, Wynne explained.
"We are here to treat disease, but it sure is a lot better to prevent disease. By exercising properly we can keep people healthy and that's what this is all about. We want to practice what we preach,"  Wynne said.
Declan Hoffman is a staff writer for the Dakota Student. He can be reached at [email protected]