Coffee and Conversations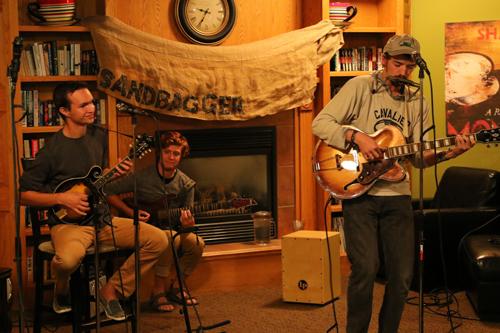 Changing perspectives, one cup of coffee at a time
Archives Coffee House is a familiar and cozy location where many students enjoy taking their homework to study, sit down, unwind and enjoy a tasty beverage.
But last Friday night, the coffee shop was transformed from a quiet and snug setting to a vibrant, discussion filled hot spot, bustling with great talent and live music.
During the evening, Archives blended together coffee, live music and socially charged conversation as they hosted an open mic night.
Many students and people around the community packed the facility, eager to hear the musical talent and engage in an open conversation.
Kyle Thorson, the new owner of Archives, took over managing the coffee house last June and has been working hard making Archives a community involved location.
"When I took over, my focus was on making Archives Coffee House into a social business that focused on building community and giving some of the profits back to local organizations." Thorson said.
"Live music is a great way to build up community and an open mic allows people to share something special to them. Be it music, a story, or whatever else, with others in the audience."
The open mic night kicked off with live jazz music performed by Jim Popejoy & Matt Strand.
Later in the evening, Will Beaton, Joe Kalka and many others took the stage to play a wide variety of heartfelt, energetic music.
Between the music and singing, one of the main objectives of the evening was getting students together and engaged with their peers.
This gathering offered not only a chance for students to listen and enjoy live music, but also an opportunity for different student organizations to make connections and start a conversation about the issues happening on campus.
Student run organizations Sandbagger News and the UND Psychedelic Club were the two primary student organizations hosting the open mic night.
Both of the two clubs have a deeply rooted focus on raising local awareness, communicating ideas, changing perspective, engagement in their community, and various activism projects.
Will Beaton, Journalist & Co-Founder of Sandbagger news, expressed the importance of getting UND students involved in community conversations like these.
"Basically, the point of our event was getting these different groups together and talking about anything that can lead to awareness." Beaton said.
"We're interested in how we communicate about issues occurring on our campus. We know that if we come together, and we are sincere, we can do the most good moving forward."
Some of the main talking points included the Zero Tolerance Rally and race issues on campus, as various students earnestly stepped up to the mic and spoke about their personal perspectives in front of the coffee house.
"Events like this are what college is for. Learning how to do something, connecting people, feeling uncomfortable and expanding perspectives." Beaton said.
"If we don't talk about things, they're going to keep happening. If we don't talk about race issues they're going keep happening. Whether we're talking about race, drugs or anything, it's sincere communication that is always the answer."
After a busy and passionate turnout during Friday's congregation, it is anticipated that the live music and conversation will continue to fill the walls of Archives as the semester continues.
"Going forward, we would love to host more events and provide opportunities for music while providing some really awesome coffee and beverages." Thorson said.
Next month, students can be on the lookout for more events at the coffee shop. If students are interested in getting involved or playing their music during open mic, they can contact Will Beaton or Kyle Thorson at [email protected].
Beaton says, "Bring friends, guitars, and an appetite for changing the world."
Amanda Hefner is a staff writer for The Dakota Student. She can be reached at [email protected]