"They don't pay? We won't pay!" looks forward to their appearance on stage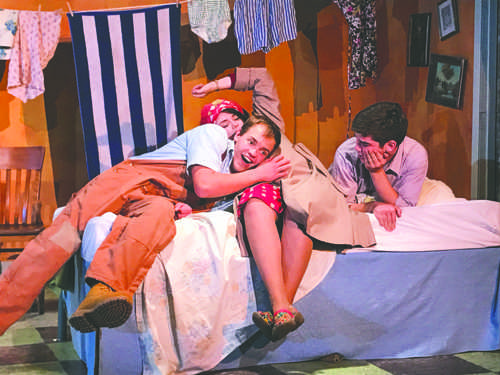 Prices are rising and wages are falling— what's a girl to do? Go shopping for free without letting your husband or the police know, of course.
So the story goes in UND theater's upcoming performance, "They Don't Pay? We Won't Pay!"
"They Don't Pay? We Won't Pay!" is a farce that blends together radical politics and high comedy, and is designed to target immediate social and political issues.
In this play, workers unite against "big bosses" and attempt to overthrow the right-wingers. Cast members also occasionally break down the fourth wall and address the audience directly during the performance.
In preparation for "They Don't Pay? We Won't Pay!", students have undergone a short but intense four-week rehearsal period practicing for the performances.
This production is made up of a small cast of just five UND theatre students — Joseph Picardi, Ashley Restemayer, Auroura Eckberg, Cole Bakke and Tyler Folkedahl.
Even with a small cast, the stage is anticipated to be full of brilliant acting, decorative stage props and easy flowing and light-hearted humor.
Ljubisa Matic, the director of "They Don't Pay? We Won't Pay!" is very eager for the performances to begin next week.
"Although written in Italy in the nineteen seventies, the play will strike some chords with anyone who has ever, in one way or another, been beset with an economic crisis," Matic said.
The action in "They Don't Pay? We Won't Pay!" is set in a modest working-class flat to which one of the main characters returns from the local supermarket after indulging, with her fellow-housewives, in a spontaneous collective self-reduction of prices.
This has gotten so chaotic and out-of-control that it has turned into outright stealing, curbed only by the arrival of the police. A complete mayhem breaks out, where everyone is keeping secrets from each other until the very end.
"Students can look forward to laughing at a bunch of slapstick moments this play provides and revisiting all the farce's usual ingredients —such as coffins, cupboards, doors that mysteriously open and cross-dressing." Matic said. "Hopefully, the audience will be open enough to laugh not only at satiric representation of the 'big fish', police and government bureaucrats, but, equally unrestrainedly, at the faults and foibles of the so-called 'ordinary folks'."
All students are encouraged to attend the play and will be able to look forward to laughter, joy, as well as being transported to a locale and time slice far beyond the walls of the theater.
Live performances of the play are happening at the Burtness Theatre Sept 27 through Oct 1. The curtain for all shows opens at 7:30 pm, but students are encouraged to arrive early to secure a seat.
If students are interested in attending "They Don't Pay? We Won't Pay!" they can obtain tickets through the Burtness Theatre box office at 701-777-2587 or by emailing [email protected].
Amanda Hefner is a staff writer for The Dakaota Student. She can be reached at [email protected]