Oktoberfest celebration takes place downtown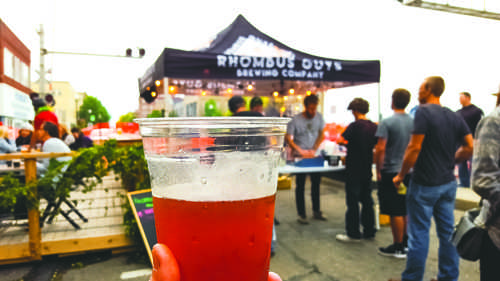 Cheers!
The leaves are changing colors and the air outside is getting more brisk — which can only mean it's time for sweaters, pumpkins and Oktoberfest.
Oktoberfest is a well-known Bavarian celebration occurring during the months of September and October featuring beer drinking, food, culture and merrymaking.
A few weeks ago on Sept 17, the 16-day celebration of Oktoberfest began in Munich, Germany and many locations around the world are celebrating in full swing as well.
While the autumn festival has traditionally been held in Munich since 1810, other cities across the world also hold Oktoberfest celebrations that are modeled after the original German event.
Last weekend, the spirit of Oktoberfest came alive in downtown Grand Forks as Rhombus Guys Brewing Co. celebrated their one-year anniversary in business.
The brewing company opened their doors last year with a mission to serve the community a wide selection of locally brewed craft beer as well as tasty food.
On Saturday night, Rhombus Guys Brewing Co. commemorated their business feat by blocking off the street and hosting an Oktoberfest themed party featuring live music, food, dancing and delicious beer.
There were two large tents set up in the street, colorfully decorated in hops and string lights.
Many eager people packed themselves into the tent to engage in the festivities.
There were various games set up around the street for people to enjoy while they drank beer and socialized.
A few guests even showed up to the event wearing traditional German attire, dressed in Lederhosen, maid dresses and beer mug hats.
During the activities, music filled the street as various bands took the stage all throughout the evening to set the spirit with live music.
Additionally, Rhom-
bus Guys Brewing Co. featured three-dollar pints as well as many delectable German styled dishes.
Some of the dishes included soft pretzels and beer cheese, schnitzel, mac and cheese, bratwurst and a special Oktoberfest inspired pizza.
The eats were cheap, as all the German inspired meal selections were just $3.00. Beer was the same price in the brewery tent.
Beer selections were comprised of Rhombus Guys craft brews, including their iconic blonde pale ale, Freakshow strong ale, as well as a special Oktoberfest blend.
Overall, it was a fun evening of brats, beer and Lederhosen as downtown Grand Forks celebrated the spirit of Oktoberfest.
Oktoberfest is a celebration of life, happiness, and German culture and that couldn't happen without great eats and great beer.
So while the spirit of Okotberfest is still here, raise a glass, smile and cheer, prost!
Amanda Hefner is a staff writer for The Dakota Student. She can be reached at [email protected]