Fighting Hawks return home to begin conference play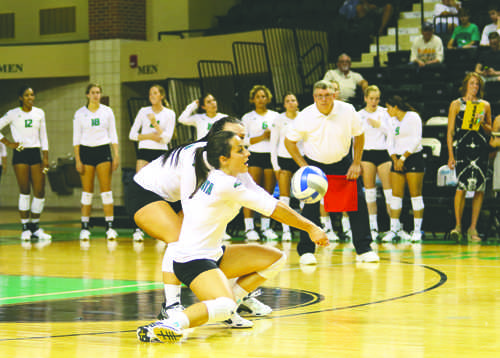 Big Sky Conference matches begin for the Hawks as they face Southern Utah at the Betty
Being on the road so long, UND finally makes a return to the Betty Engelstad Sioux Centre. The Fighting Hawks have been on the road since September 7, and in this two week stretch. Smoothing out the kinks after starting the season with a 2-4 record UND has found their groove, which is a good sign going into Big Sky conference play.
Head Coach Mark Pryor saw his team get a signature win with a 3-1 victory over Clemson, and he also saw his team fight hard against the Minnesota Golden Gophers, the third best team in the nation.
The Fighting Hawks went 6-3 (8-7 overall) in this nine-game stretch away from the Betty. It's now time to get to what really matters, conference play.
The play at the Betty won't last long as the Hawks will play the Southern Utah Thunderbirds this Thursday night at 7 p.m., and then go on the road at Northern Colorado on Saturday afternoon at 1 p.m..
Southern Utah comes to Grand Forks struggling to find their groove. The T-Birds are on a six game losing streak including losses to Georgetown, Gonzaga, and Denver.
UND has not been the only team that has spent a majority of their season on the road. Southern Utah has yet to play a game at home.
Southern Utah is 0-5 on the road, and 2-5 in a neutral setting.
Southern Utah, as a team, has struggled in a lot of categories this season. Through 12 games, the Thunderbirds have a hitting percentage of .162, while their opponents have been exponentially better, hitting at a .220 clip. One thing that has stood out about the Thunderbirds is their serving. SUU has a serving percentage of .768, while their opponents have been serving at a clip that isn't as good, .668.
Individually, the T-Birds have some weapons they can go to. Chennin Benson leads the team in kills with 126, while Macky Fafita is second on the team with 95 kills. Benson will look to get the ball a lot this Thursday night as well, as she leads the team in the attack category as well, with a whopping 391 attacks.
It should be fun this Thursday night in the Betty as both teams will look to get the Big Sky conference off on the right foot.
After Thursday, UND will jump on a plane, and head out to Greely, Colo. for a match with the Northern Colorado Bears. These two teams have met many times in not only the Big Sky, but also the dissolved North Central Conference.
UNC will have a game against Northern Arizona before their battle with the Fighting Hawks, but as of now, they sit at a record of 6-6, with notable wins against Georgetown, Denver, and a 3-2 win over NDSU.
Much like UND's opponent on Thursday, Southern Utah, Northern Colorado has struggled in the hitting percentage department. Sitting at an average .192, while their opponents hit .217 on average. UND will look to attack both teams this weekend in that statistic.
UND will have to stop the two-headed monster of Kayla Uyemara, and Alex Kloehn, who come in with 149, and 108 kills, respectively. Uyemara is also a threat from the service line, as she has eight service aces in 12 games.
Hunter Plante is a staff writer for The Dakota Student. He can be reached at [email protected]