Augmented Reality Sandbox puts geography on the map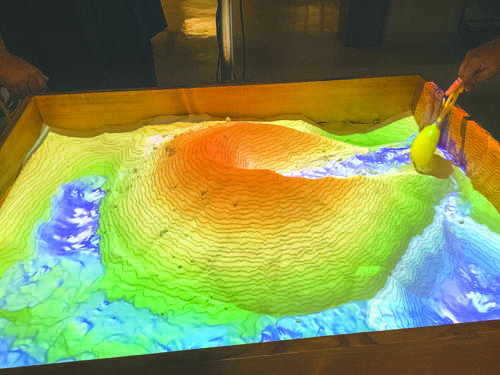 Geography is more than just place names and capitals — it is the diverse study of the relationships between people and their environments.
Yet, for some students, understanding the features on a map can be a challenge, and topographical maps can look like nothing more than a piece of paper with squiggly lines.
But recently, one UND professor sought out to challenge that perception and has now successfully put geography back on the map by utilizing augmented reality technology.
Dr. Bradley Rundquist and two graduate students, Morgen Burke and Earl Klug, constructed an interactive, geographic educational tool over the summer called the Augmented Reality Sandbox (ARS).
The ARS is a real-time, interactive landscape visualization tool used to help both UND and local K-12 students gain a visual understanding of complex Earth processes.
This project was funded through North Dakota View Program, which is dedicated to promoting remote sensing and geospatial technologies within North Dakota.
The ARS combines a physical box of sand, a Microsoft Xbox Kinect camera, a digital data projector, simulation and visualization software and a computer.
This technology allows a virtual map to be displayed on the sand, which can be manipulated by students to create mountains, volcanoes, river channels or glacial deposits. Students can also hold their hands over the map to create virtual rain.
When students interact with the ARS sand, the augmented reality changes to match the topography of the sand.
"Augmented reality is a big thing right now and people are gaining interest in it," Rundquist said. "The sand is really here, but we can augment the reality to interact with the topography in real time."
ARS users are able to transform the landscape by moving the sand around as the system quickly responds to any interactions by drawing contour lines and colorizing elevation.
By moving the sand around the sandbox, students can create and learn about erosion and water patterns, as well as recognize landforms.
This technology is highly valuable for students learning about physical geography.
"Students are used to looking at a two dimensional map, which can be hard to understand and comprehend. The sandbox helps students visualize and transform the terrain on the map in 3-D." said Rundquist.
The ARS is currently being used in Geography 121 classes, lab and will be used for STEM education and outreach programs in the future.
With this artistic new invention, the UND Geography department challenges all students to stimulate their imaginations, learn about landscapes and become engaged with geography.
"In the past, we would go out and talk to young kids and high schoolers about potential careers in geography, but a lot of times it was just talk and students didn't initially get excited," Rundquist said. "We hope that with the ARS, students will now become more engaged with earth sciences and want to learn more about landscapes after interacting with the technology."
So far, the ARS has garnered lots of positive attention around the campus.
UND junior Mark Nielson first learned about the ARS through a Facebook live stream.
"Just seeing the demonstration video on Facebook made me really want to try it out for myself," Nielson said. "It looks like fun. I may end up taking a geography class now, who knows. I think UND needs more interactive learning techniques like this."
Now, students will be able to quite literally move mountains, as the ARS aims to continuously provide a unique, hands learning experience for many students in the future.
If students or anyone else is interested in getting more information about the sandbox, they can visit the UND Geography website at http://arts-sciences.und.edu/geography/nd-view/arsandbox.cfm or contact Bradley Rundquist at [email protected].
Amanda Hefnew is a staff writer for The Dakota Student. She can be reached at [email protected]