Loving the slice from Up North Pizza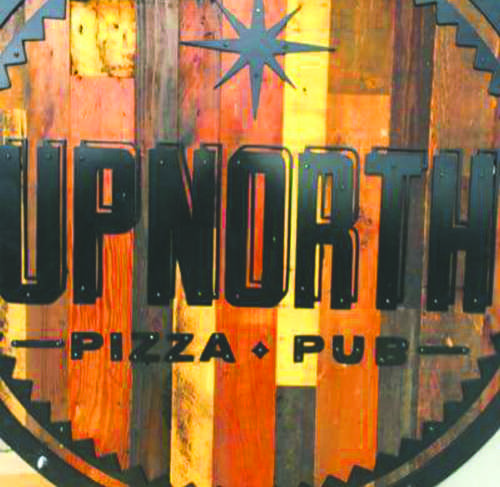 5 out of 5 stars
Ah, pizza. Greasy, warm, cheesy, gooey, tasty pizza.
Pizza is fuel for the regular college student, including myself. So when I heard about the opening of a new pizza joint in East Grand Forks, I had to check it out.
The restaurant is called Up North Pizza Pub and it is located on the ground floor of the Minnesota Heights apartment building at the intersection of Fourth Street and Demers Avenue.
Up North Pizza Pub opened for business this past summer, and offers guests a selection of pizza, sandwiches, salads and soups. It also has a bar area with a selection of over 40 craft beer and wine taps as well as cocktails.
After hearing the buzz around town, my friend and I decided to take the drive out to East Grand Forks for what would hopefully be a hot and satisfying dinner.
As we arrived at Up North Pizza Pub, I walked into the restaurant with big eyes and an empty stomach — taking in the sights of fresh wood paneling and the smells of smoke and charred cheese.
My friend and I wasted no time grabbing a booth and feasting our eyes on the menu.
Luckily, we were fortunate enough to visit the restaurant during a smart-phone app promotion, as they were offering 50 percent off the entire food bill via the UConnection app for college students.
Knowing that we would be saving a ton of money, I felt no guilt in diving right into the menu and splurging.
My friend and I ordered just about everything on the menu, including the drunken rooster pizza, the broccoli wild rice salad, coleslaw, as well as a cup of chicken wild rice soup.
I was particularly interested in the drunken rooster pizza. The name in itself was enough to capture my curiosity, but the toppings seemed even more peculiar.
The drunken rooster pizza is topped with pheasant sausage, pistachios, whiskey glazed apple slices and sauce.
I was unsure about how warm apple slices would taste on my pizza, but when the food arrived to our table, I was not disappointed.
Everything was hot, tasty and delicious. The chicken wild rice soup was creamy and the broccoli salad was fresh and delightful.
The drunken rooster pizza was a brilliant combination of warm, savory flavor. I have to say, this pizza is one of the best pizzas I have ever enjoyed in Grand Forks.
I enjoyed the pizza so much, I had almost five slices of pizza. As our bill arrived, I left the restaurant feeling full and content.
After having dinner at Up North Pizza Pub, I would definitely recommended the food to anyone looking for a tasty slice of pizza, as the drunken rooster truly is a little pizza heaven.
If students are interested in checking out the new pizza joint, Up North Pizza can be found at 314 North 4th Street, 4th St NW, East Grand Forks, Minn.
Amanda Hefner is a staff writer for The Dakota Student. She can be reached at [email protected]