Soccer rivalry reignites with Omaha Mavericks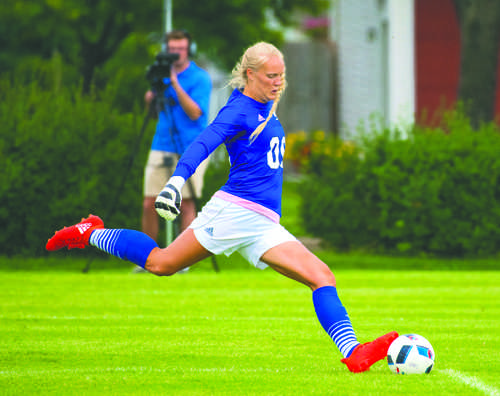 The Fighting Hawks fall further in the hole as they add another game in the loss column
Call me old fashioned, but I really like good, tough physical rivalries. USC-UCLA in college athletics, and the Boston Red Sox-New York Yankees in pro baseball. Ever since the North Central Conference was dissolved 8 years ago, most of UND's rivalries from that conference have vanished, including Nebraska-Omaha. That rivalry was resumed last Sunday afternoon, this time it was on the field.
The Fighting Hawks women's soccer team traveled to Omaha, Nebraska to take on the Mavs, in a non-conference matchup. The Mavericks scored twice to drop the Fighting Hawks, but those goals came in a span of 1:52, and UND wasn't able to bounce back from those two goals.
"We gave up two early goals today and we were just a step late the whole match," said head coach Matt Kellogg.
Carlie Cook scored the first goal of the afternoon for Omaha just 2:30 into the game, her third of the season.
Moments later, Ava Doestch scored her first goal of the season as she fired a shot that deflected off of freshman goalkeeper Catherine Klein and into the net to give the Mavericks a 2-0 lead.
This was a very tough test for the Hawks, who have had a tough time scoring goals as of late. Coming off of a tough loss to Big Ten foe Minnesota just two days earlier, UND needed a fast start, unfortunately for the Hawks, the Mavs goalkeeper was too tough.
UND did get another fantastic performance from stud freshman goalkeeper Catherine Klein. Klein stopped eight out of ten Omaha shots, which vaulted her save percentage for four games to a very respectable .894.
Katie Moller led the Fighting Hawks with 3 shots on the day, to extend her team leading total of 6 shots on goal on the year.
"We're a young resilient team that will bounce back this week," said Kellogg. "The good news is we don't have to wait long to get back on the field and make things right."
Good news for UND fans, is that UND is back in action at home this Wednesday afternoon at 4 P.M., at Bronson Field for yet another rivalry that will be renewed. The border battle is back, folks, as South Dakota State comes in to Grand Forks for a mid-week tilt.
The Jackrabbits come into Grand Forks with a record of 1-2-1. The last game for the Jacks resulted in a 1-1 tie to Big 12 opponent, the Kansas Jayhawks.
Hunter Plante is a staff writer for The Dakota Student. He can be reached at [email protected]