Ambassadors: a helping hand for freshmen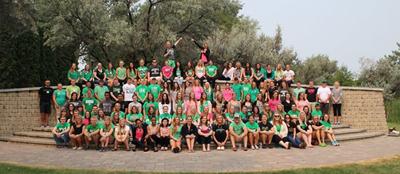 Student Ambassadors will be available to help students during Welcome Weekend this August. Photo by Kristi Okerlund
For many incoming students, the first day of college can bring an overwhelming mixture of excitement, anticipation and nervousness.
While students are unpacking their cars and settling into their dorms, they may think to themselves, "now what do I do?" or "where can I meet people?"
Aside from going to classes, a great way for students to meet new people and find their niche is by joining student organizations.
One organization that helps new students transition into college life smoothly is Student Ambassadors.
Student Ambassadors are most likely the first group of students that incoming freshmen see, as they assist with Welcome Weekend, finding classes and answering questions.
Student Ambassadors are an organization that focuses on social, community, campus and leadership values while striving to share the spirit of UND with classmates and the community.
Kristi Okerlund, coordinator of New Student & Parent Programs, expresses how Student Ambassadors is a great way for incoming students to get connected with the university and overcome any feelings of apprehension.
"I think as a first-year student, being a Student Ambassador is an awesome opportunity to get connected to other
students from all different classes and majors," Okerlund said. "Student Ambassadors also get more familiarity of the university and can feel knowledgeable about the campus."
Student Ambassadors preform a number of volunteer tasks on campus throughout the semester. They are involved with Welcome Weekend, Homecoming, Spirit Week, receptions, commencement, career fairs, culture nights and more.
Stephanie Lee is a senior who has been a part of Student Ambassadors for five years. Three of those five years, she has served on the executive board and has also been heavily associated with UND Student Involvement.
Lee said being a part of Student Ambassadors has helped her grow both personally and professionally during her time at UND.
"By being a part of Student Ambassadors, I have learned to plan events, talk in front of large groups of people and socialize," Lee said. "In high school, I was an extremely timid student who just hung under the radar, but over my five years at UND, I have become comfortable with public speaking, giving advice to others and learned the importance of getting involved on campus."
Cameron Dutt is another student who was involved with Student Ambassadors during his time at UND.
Dutt joined Student Ambassadors towards the end of his sophomore year and was involved with the program for about two years.
"Being an SA has impacted my college career by opening my eyes to experiences and opportunities that I would have otherwise been unaware of," Dutt said.
"I made many close friends through the organization and feel a stronger connection to the university because of my involvement as an SA with campus events."
In addition to making a connection to the university and building close friendships, Dutt mentions that his involvement with Student Ambassadors had a big impact on life after college and applying to graduate school.
"After I was accepted to five dental schools, I began to realize the impact my involvement with SA had during my applications process." Dutt said. "Each dental school interview included a few questions focused on leadership and my experiences as a leader and the experiences I had through Student Ambassadors allowed me to demonstrate my development as a leader and made me a more attractive candidate."
Several students interviewed said joining  Student Ambassadors boosted their college experience, resume and social relationships.
"I believe that Student Ambassadors has opened many doors for me personally and professionally," Lee said. "I would recommend incoming students to join Student Ambassadors because it is a place where you can get involved right when you step foot on campus."
Amanda Hefner is a staff writer for The Dakota Student. She can be reached at
[email protected]