Softball team narrowly loses series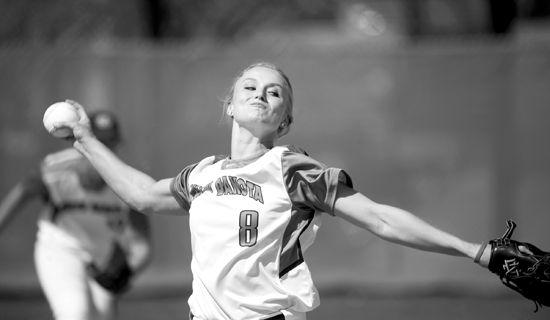 UND's ace softball player Kaylin VanDomelen prepares to fire off a pitch. Photo by Nick Nelson/The Dakota Student
Despite a strong win in the first game, UND went on to lose the next two to the SDSU Jackrabbits.
Back in the old North Central Conference days, UND had its rivals that every fan made sure they paid attention to, no matter the sport.
Rivals such as NDSU or South Dakota State added more meaning to these intense conference games.
A lot has changed since those days, including the NCC being dissolved.
On Tuesday afternoon, fans of the UND and South Dakota State got to relive the "good old days." This time, it was in the form of a softball doubleheader.
UND is coming off a weekend series against Weber State in which it started off with a 5-3 win on Friday night, which was a record setting fourth Big Sky conference win.
Weber State would later show its muscle and take the next two games and the series.
After yet another series loss, UND went into Brookings, S.D., on Tuesday afternoon looking for a little momentum.
Just like the series before, UND would play well in game one but struggle in the second, this time against the Jackrabbits.
Emily Bell, Shelby Hard and Autumn Cervantez each had two hits for the Fighting Hawks, while catcher Mary Martin continued to do well in the batter's box as she finished with three hits in the first game. Taylor Hansen also stayed hot at the plate as well by tacking on three hits of her own.
Kaylin VanDomelen continued to show why she is UND's ace. VanDomelen may have got the win for the Fighting Hawks on the pitcher's mound, but she also helped in the batter's box as well. VanDomelen hit a homerun and had two RBI's, and that was enough for VanDomelen to help UND get the 13-8 win, which was No. 17 for the season.
"We got off to a rough start in game one," UND coach Jordan Stevens said. "It was nice to see that we could fight back, which started from getting a lot of good swings."
The Hawks were not done in Brookings, however, as they would try to take the doubleheader sweep against the Jackrabbits.
UND would send Hannah Berg to the pitcher's mound this time around, but South Dakota State wasn't going to lose two games in one day.
The Jackrabbits had a whopping 11 hits and scored 10 runs to beat UND 10-3.
Bergh allowed just two earned runs in 2.2 innings of work. Freshman Kyra Lenzi came in to relieve Bergh and worked 3.1 innings to finish off the day.
UND would jump out to quick 1-0 lead in the top of the first, but South Dakota State would lead going into the sixth inning 4-1. UND would get a run in the top half of the sixth, as Hard drove in two runs with an RBI double to cut the lead to 4-3.
SDSU would answer in a big way.
They would score six runs on five hits in the bottom of the sixth. The Jackrabbits' big inning at the plate was one that UND couldn't bounce back from.
After splitting the non-conference series, UND comes back home this weekend for the last time as they host Big Sky Conference rival Montana in Grand Forks this Saturday and Sunday.
Montana comes into Grand Forks at No 4. in Big Sky with a 9-6 record. UND currently sits at No. 6 with a 4-9 record in conference play.
Though the Hawks have struggled overall this season with a record of 17-31, there is a silver lining. UND can move its 4-5 home record into positive territory this weekend if it is able to take two out of three games from Montana.
The first pitch of the last home series is at 1 p.m at Kraft field.
Hunter Plante is a staff writer for The Dakota Student. He can be reached at [email protected]