Shakespeare in the Forks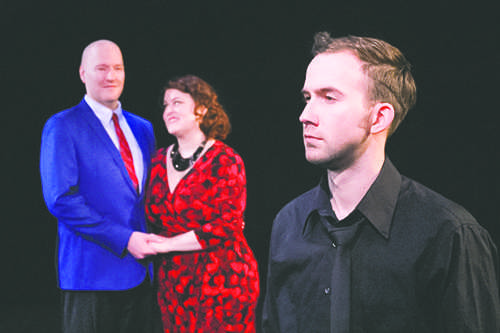 Daniel Johnson (foreground), Darin Kerr and Emily Cherry (background) are among the cast members performing "Hamlet" at the Burtness Theatre. Photo courtesy of UND Department of Theatre Arts
To be, or not to be? That is the question.
Whether 'tis nobler in the mind to suffer the slings and arrows of outrageous time commitment, and take arms against a sea of script memorization and by opposing, put on a great show.
These are partial words that can be recognized from the well-known play "Hamlet," a play written by one of the most important writers in English, William Shakespeare.
This week, the UND Department of Theatre Arts is re-imagining the play and putting its own twist on the classic as students are preforming "Hamlet" at the Burtness Theatre.
Directed by Kathleen McLennan, this performance of "Hamlet" is particularly special, as it is part of an international celebration of the works of William Shakespeare.
This commemoration of Shakespeare is occurring as 2016 observes the 400th anniversary of the great writer's death. The run ends on his birthday, April 23.
Students from the theater have been hard at work and have vigorously dedicated themselves in preparing for their production of "Hamlet."
Daniel Johnson, who plays the role of Hamlet, said the preparation for this performance has been both passionate and
consuming.
"We have put in 40 hours of rehearsal this week alone," Johnson said. "No one plays Hamlet and doesn't break a sweat. It's physically, emotionally and mentally demanding." 
"Personally, I spent spring break in a rehearsal room, alone, memorizing and emoting in an empty space," Johnson said. "I've been writing and thinking about 'Hamlet' for almost a year now and it's almost starting to become clear."
Murder, melancholy and madness rock this powerful and engrossing production of Shakespeare's greatest play.
In this production, Hamlet uncovers a world of deception and corruption as he grapples with his
morality and mortality while putting into motion a plan of vengeance that will have devastating consequences for the entire kingdom.
The death of his father and his mother's hasty remarriage leave the Prince of Denmark in suspicious mourning when his father's ghost appears to him, demanding revenge.
As these performances are underway, the UND Department of Theatre Arts encourages all students to come out and attend a show.
"Don't you want to be seen seeing Shakespeare?" Johnson says. "There's nothing sexier than attending Shakespeare. Come get drunk on the language."
If students are interested in seeing the play, performances run all through this week and come to a close Saturday.
Tickets for students are $5 and $15 for adults.
Students can acquire their tickets through the Burtness Theatre or by calling (701)777-2587.
"Just think of Hamlet as a student." Johnson said. "At this trying time in the semester, you can go to the play and be reminded that although you have a seemingly insurmountable amount of work to complete, and miles to go before you sleep, at least at the end of the day you don't have to kill your uncle."
Amanda Hefner is a staff writer for The Dakota Student. She can be reached at [email protected]