Students react to proposed Studio One cut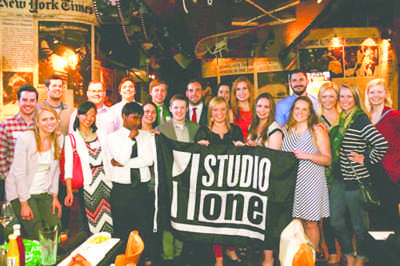 Studio One interns met with alumni this past weekend in Minneapolis. Last Thursday it was announced the program could be eliminated. Photo courtesy of Studio One
After 29 years at the University of North Dakota, Studio One has been slated to be eliminated pending a new solution to preserve the program.
It was announced this past week that the program, which is operated through the Television Center at UND, may be shuttered as part of the university's budget reductions.
Studio One produces a weekly television program that airs throughout North Dakota and neighboring communities, including five other states and parts of Canada. UND students produce the entire program with the assistance of several employees at the center.
Studio One is a popular choice among UND students in order to gain internship credit, and many among UND students in order to gain internship credit, and many of the students were surprised and frustrated when they found  out Studio One may be eliminated.
"Studio One has a very unique case at the University of North Dakota, and I didn't realize how lucky I was to be here and be able to receive such an opportunity to be a part of Studio One," said Jacob Notermann, a freshman at UND and a video journalist at Studio One.
It is not uncommon for students to intern multiple semesters at Studio One in order to gain different experiences at the program. Taylor Nelson, a senior communications major at UND, interned at Studio One her freshman year before returning to the program several years later.
"Coming back, it felt really nice. I think that one of my biggest regrets is not joining sooner," Nelson said.
She also spoke on the hands-on experience that her internship at Studio One gave her, preferring it to some of the classes she had to take as part of her major.
"Isn't that what you come to college for, to try to make a career? This is what I came here for, and I want to be able to use my degree for something, and they're taking that away from future students," Nelson said.
Rachel Cox, a freshman at UND and an associate producer at Studio One, said she had considered transferring schools prior to her experience at Studio One.
"Three shows into Studio One, I'm sitting here thinking, 'Wow, this is actually what I want to do'," Cox said.
She changed her major to communications with the assumption that she would have the opportunity to participate in Studio One.
"It's the experience that I wanted the entire time, I just didn't realize it," Cox said.
All three students noted the    connections and relationships they have been able to build with the staff at the Television Center during their time at Studio One.
"It's knowing the people at Studio One, and I'm sure the case is similar for Taylor. It's knowing the people that brings you back every day happy to go," Notermann said.
Staff
Since the announcement, Television Center Director Barry Brode has been working both on dealing with the new budget reality and advocating on behalf of Studio One. He has worked at the Television Center since before the program started in 1986.
"From our perspective, Studio One is a strength that this unit has," Brode said. "We have created this environment that really is more than creating a television show. We think of it as a leadership workshop."
In an interview with the Dakota Student, Brode stressed the benefits of experiential learning and professional development.
"I am going to lobby to keep this. I feel like it's incumbent upon me to do that, because I know the value of the experience to our students," Brode said. "So many students over the decades that have been a part of this have said to me, 'This project changed my life,' and I can't simply say 'Okay, we'll just stop doing it.'"
This past Wednesday, Staff Senate passed a resolution opposing the elimination of the program, citing that elimination of the program would eliminate approximately 80 internship opportunities for students a year and noting that the program has received more than 700 awards throughout its 29-year history.
Studio One has built an alumni network that spans throughout the country, including graduates who work in a variety of capacities in different media settings. The internship itself is popular among students who are not communications majors as well.
Future
UND Spokesman Peter Johnson said the Television Center is being restructured to provide free services to campus organizations that require video production, instead of the current model that operates as a "cost-recovery center," where campus organizations pay for the services. Some campus organizations have not been able to afford the cost currently charged by the Television Center.
Additionally, he said the university would like to have the focus be on providing these services to campus, with the academic mission being secondary to the other production services. If Studio One were to continue, it would have to be as part of this restructured financial model, according to Johnson.
Currently, the budget outcome that would have the least amount of impact on the Television Center would result in a 21 percent cut and several positions being eliminated.
The Television Center cuts come as part of the university's effort to address the $9.5 million shortfall at the school and $3.1 million at the School of Medicine and Health Sciences. Earlier this week, it was announced the men's golf and baseball teams would be cut at the end of 2016-17 season, and it has also been announced the music therapy program will take no new students.
Interim President Ed Schafer officially announced the rest of the budget decisions online yesterday and will be hosting an open forum from 1 p.m. to 3 p.m. Wednesday at the Memorial Union.
Sean Cleary is the editor-in-chief for The Dakota Student. He can be reached at [email protected]