African culture night comes to UND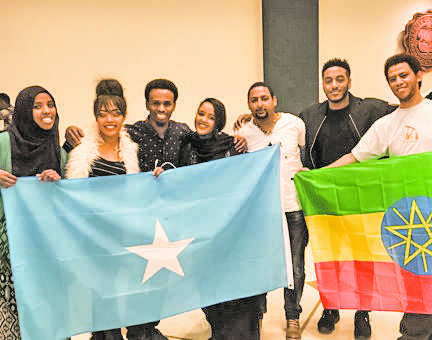 Students display their national flags at the "Passport to Africa" culture night. The event was hosted by the African Student Union. Photo by Amanda Hefner/The Dakota Student
Last Saturday, the Memorial Union was filled with music, food, art, poetry and dancing as the African Student Union showcased its cultural night program, "A Passport to Africa."
This event was open to all UND students and members of the community and presented a colorful celebration of the heritage and culture of Africa.
Students in the African Student Union worked hard for many weeks to put together a night full of continental-sized cultural highlights. Throughout the evening, students were able to showcase their work, costume, cuisine and traditional touches from their selected countries in Africa.
Performances included dance numbers from all over Africa. Students also read African poetry, which portrayed both the struggle and beauty of African culture. The fashion show displayed modern, traditional and other attire from various African countries.
In addition to the performances, the club featured display posters in the back of the ballroom so guests could learn more about countries in Africa.
Some of the countries featured included, Libya, Democratic Republic of Congo, Angola, Morocco and Nigeria. Each display board was full of facts, pictures and cultural items such as currency and artwork.
In addition to sharing food and entertainment, A Passport to Africa also was an opportunity for the club's students to challenge negative perceptions and misconceptions of the African continent.
"This program is a great way to break down barriers, stereotypes and misunderstandings in which others may have towards Africans and is also a chance to know more about our culture and what we represent as an organization," African Student Union President Jacqueline Sudue said. 
After experiencing A Passport to Africa, Sudue hopes that students understand and realize the beauty of the vast African culture and realize that it's not a huge country, but a continent of many different people and backgrounds.
About the club:
The African Student Union is an organization whose goal is to share and create unity, not only in UND but also to the community. 
"Any student is welcome to join," Sudue said. "We have members of different races involved in this organization, and it gives everyone a chance to learn about each other."
The club generally takes time to learn about other countries that are in Africa, and it also focuses on discussing what events are going on in Africa, America and other regions of the world.
The club also considers how to inform the community and university more about important topics regarding Africa.
Additionally, the club also attempts to plan fun events they can do as a group such activities as movies and going out to eat.
The club encourages all students interested in African culture to join.
"It has definitely benefited me as a student because I felt that I have grown so much of learning more about my culture, the culture of others, and what is going on around me," Sudue said.
Amanda Hefner is a staff writer for The Dakota Student.  She can be reached at [email protected]