Baseball readies for first home series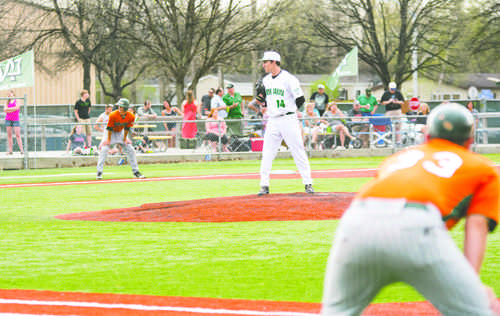 UND starting pitcher Zach Muckenhirn stares down the batter in a game last year at Kraft Field in Grand Forks, N.D. File Photo by Nick Nelson/The Dakota Student
Hawks coming home to face off against Big Sky leader Seattle U after loss to SDSU.
Recently, the UND baseball team has been playing better, but it still has problems it needs to work out.
Last weekend, the Fighting Hawks won against Utah Valley. It was their first series win since the opener in February. What was more impressive was how the team responded after losing in wild fashion. Utah Valley was able to score nine runs in the ninth to shock the Hawks, but UND would come back the next game and take care of business.
On Wednesday, the Fighting Hawks took on South Dakota State in what was supposed to be a doubleheader. The two teams only got six and a half innings of play, but it was enough for SDSU to get the win over the Hawks, 5-3.
The Jackrabbits were able to jump all over UND starting pitcher Nick Gagnon in the third inning, scoring the game's first three runs. The Fighting Hawks were able to make it a game, scoring three runs to make the score 5-3 but could not advance any further. With the win, the Jackrabbits had won five games in a row.
"It wasn't a very clean game from us," UND coach Jeff Dodson said. "A hit batter, a walk and a throwing error set things up for them in that three-run inning. When we did get base runners on, we were pretty good, we just have to do a better job in the early part of innings to get runners on base with less than two out. We'll be ready to open our home schedule Friday against a good Seattle club."
Before the series win against Utah Valley, the Fighting Hawks were searching for answers. They had lost seven in a row and 13 of the last 14. Granted, those games were against the likes of Kansas, Alabama and Wichita State.
But now that they are in conference play, UND hopes to right the ship and be competitive in the WAC. That starts this weekend.
Seattle University, however will not be a light task. Seattle University comes into this weekend's series as one of the top teams in the WAC with a fantastic 6-0 conference record. The Redhawks also have a very respectable 18-9 overall.
Winners of seven straight baseball games, Seattle also has some pretty impressive wins on their resume. They defeated the Minnesota Golden Gophers from the Big Ten Conference three out of the four                 games for the series win.
Seattle University will bring a loaded lineup to Kraft Field in Grand Forks. The Redhawks have six batters that have a batting average of over .300. Two other regular starters from the Redhawks have a batting average of just under .300. Seattle University has also hit a total of 16 home runs, something the Fighting Hawks need to be cognizant of.
Needing to get the series off to an excellent start, UND will send its ace Zach Muckenhirn to the bump on Friday afternoon to combat the powerful Redhawks lineup. Muckenhirn has a record of 2-4 with a 3.24 earned runs average. The sophomore may have a losing record, but the four loses can equally be attributed to lack of run support. Muckenhirn has shown ability to shut down a powerful lineup this                  season such as against USC.
UND will need the usual dominant Muckenhirn to take down one of the WAC leaders.
After the loss to South Dakota State, the Hawks move to 5-15 ahead of the first home series of the year at Kraft Field.
After this weekend's home series, UND will be back on the road for a one game road trip at NDSU next Wednesday, as well as Texas Pan-American for a weekend series.
The Fighting Hawks then return home for a nine-game home stand starting April 20 with an out of conference game against Winnepeg.
WAC play resumes April 22 as the Hawks face Grand Canyon.
Hunter Plante is a sports writer for The Dakota Student. He can be reached at [email protected]