A review of 1000 Degrees Neopolitan Pizza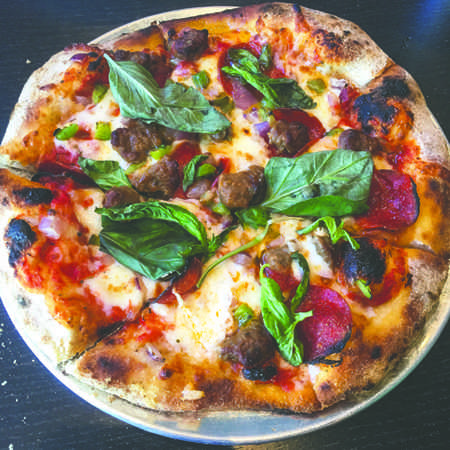 I originally tried to construct a margherita pizza, but the amount of toppings were too good to pass up. Photo by Brendan McCabe/ The Dakota Student
Student's lives are a roller coaster of time management. There are days with little to no homework followed by all-nighters of studying and Rebull IV drips. For me, this averages out to having more than enough time to go to a fast food restaurant, but not quite enough time to sit down and spend a classy night at Applebee's. This means I have enough time for fast-casual restaurants, such as Qdoba or Pita Pit.
On Jan. 14, a new fast-casual joint opened in Grand Forks called 1000 Degrees Neapolitan Pizza. The restaurant is located off of 42nd street attached to Baymont Inn & Suites.
The difference between a traditional Neapolitan pizza and its uncultured brethren is the Neapolitan's flash cooking method in which the pizza is cooked at extremely high temperatures for a brief period of time, usually less than 90 seconds. While Neapolitan pizzas are typically left soft and moist in the middle, 1000 Degrees' pizza was thoroughly cooked at the way through.
What really sets 1000 Degrees Neapolitan Pizza apart from other pizza joints is its preparation style. Similar to a restaurant like Chipotle, you pick your own toppings from a case as the dish is created in front of you. While other pizza places typically cap customers at one to three toppings and then nickel and dime you for the rest, 1000 Degrees gives customers the opportunity choose as many toppings as you want at no additional cost.
Want a five-cheese pizza? No problem. Want a meat-lover's pizza with more kinds of meat than you can count on your hand? No problem. Want a pizza smothered in just black olives and anchovies? No problem, you monster. The cost of extra toppings is all included in the original price of $7.99 for a 10-inch pizza and $14.95 for a 14-inch pizza. For those of you who have gluten sensitivity or just enjoy hopping on a good bandwagon, the restaurant also offers gluten free crust.
On top of the build-your-own aspect, 1000 Degrees also offers a list of several tried and true pizza recipes including buffalo chicken, smokey pollo and even bacon mac and cheese. I opted for a 10" classic margherita, which is typically a minimalist pizza with the only toppings being fresh mozzarella cheese, marinara sauce and basil leaves. While I went in planning to keep my pizza pure and true to its roots, that notion got kicked to the curb the second I was offered additional cheese.
Once my "classic" margherita had been tainted with a heap of extra cheese, I caved and added sausage, pepperoni, green peppers and onions. Because I've been going through a bit of a rough patch for about the past 20 years, I didn't have to worry about offending a significant other with breath that smelled like the trash bin outside of an Olive Garden.
The pizza was quickly cooked in front of my eyes, and the entire process from ordering to receiving the pizza took just slightly longer than ordering a burrito from Chipotle. If you have enough time to watch a burrito get made before your eyes, you certainly have enough time to get a pizza from 1000 Degrees.
In all my life, I do not believe I have had such a hard time waiting for food to cool off as I did in 1000 Degrees Neapolitan Pizza. The upgraded and enhanced margherita pizza lying before me was art, and almost every basic animal instinct of avoiding fiery hot substances was out the window.
The first bite proved my suspicions that the pizza was in fact art. Every single ingredient tasted exceptionally clean and crisp, with the standout ingredient being the fresh mozzarella cheese. Instead of coming pre-shredded, 1000 Degrees' fresh mozzarella cheese option arrives in small hunks that are only broken apart once they are ordered by the customer. Caution: Taking a bite of 1000 Degrees pizza that contains a piece of this mozzarella may cause some users to spontaneously believe in a higher power.
The crust was also the perfect consistency, maintaining a crunchy and firm outside while staying soft and chewy on the inside. Even picky eaters may find themselves going back to finish off their uneaten crusts.
One of, if not the most important aspects of a restaurant is its staff, and the staff here certainy did not disappoint. Even with the stress of customers in line to the back of the restaurant, every employee was courteous and more than happy to put up with my distinct lack of pizza knowledge. The artists were also very generous when doling out topping.  James Grossman, a colleague of mine, asked for his pizza to be "murdered with pineapple," and the pizza creator did not fail to deliver as she piled a half-inch of pineapple across the entirety of the pizza.
From the incredibly fresh ingredients the friendly staff, 1000 Degrees Neapolitan Pizza easily earns 5 out of 5 stars. The next time you find yourself with exactly enough time to go to a semi-fast food restaurant, do yourself a favor and give 1000 Degrees Neapolitan Pizza a try.
Brendan McCabe is the copy editor for The Dakota Student. He can be reached at [email protected]