'L Bistro tries fine dining at a lower price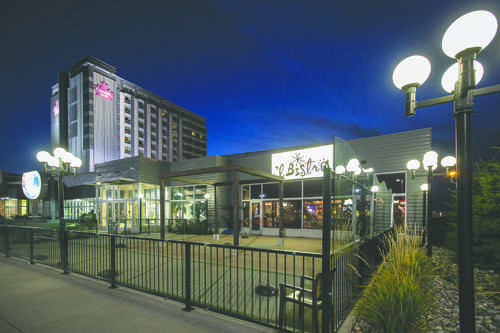 'L Bistro offers a cut down fine dining experience. Photo by Nick Nelson/ The Dakota Student
Grand Forks is a town that isn't particularly known for having a lot of "fine dining"
restaurants. Due to this circumstance, last Tuesday night I went on a small, yet noble
quest to see if I could find a restaurant whose experience and food could be dubbed
as fine dining.
My restaurant of choice was 'L Bistro Mediterranean Eatery. I decided to check out
'L Bistro for what would hopefully end up being a special and sophisticated night
out.
The eatery is located on South 42nd Street and is connected to the Canad Inns
Destination Center.
When I arrived to the restaurant, I saw a sign in the door that said Tuesday nights
are half price pasta nights. "Jack pot!" I thought to myself, thinking about all the
money I would be saving on my dinner. I definitely picked the right night to come
out and eat some pasta.
When I was seated at my table, the waiter appeared to be very courteous and
friendly.
As I looked at the menu, the selections all looked delicious. I decided splurging on
my meal at this point was inevitable. With the money I would be saving on this meal,
'L Bistro had my taste buds in their grasp.
Since I was already saving quite a bit of money on my pasta entrée, I decided to
order calamari as an appetizer. The dish came out hot, crispy and tasty. Even though
I don't normally order appetizers, I did not regret getting it.
For my entrée, I ordered the baked seafood penne. This dish was a combination of
shrimp, scallops and crab tossed with penne in a creamy alfredo sauce and baked.
At first, I was a bit skeptical about ordering a seafood dish considering North Dakota
is a landlocked state and I had no idea how fresh the seafood in my dinner would
actually taste. But since I had a good experience with the calamari, I decided to go
for it.
I was pleasantly surprised when I tasted the penne. All the seafood was warm and
tender and the noodles were creamy and enjoyable.
The portion size they gave me was fairly large, but I was almost able to finish my
entire plate because I was really enjoying my meal.