Big Forkin' Festival showcases local talent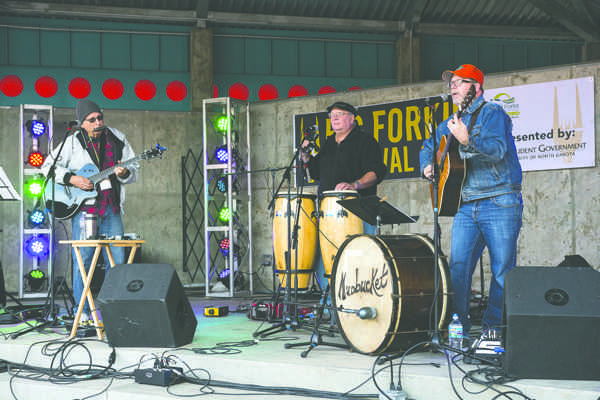 This past weekend, it was all about the music, as a plethora of local artists rocked various venues in downtown Grand Forks. Over a three day event, students had the chance to dance, sing and let loose while more than three dozen bands from Grand Forks, Fargo and Winnipeg played at the Big Forkin' Festival.
This first inaugural music festival offered an opportunity for local bands to gain exposure, and for students and members of the community to enjoy great music all weekend long.
Nick Jensen, the founder of the Big Forkin' Festival, says the creation of this event came to because of his love for live music.
"When I was an undergrad student, I saw the Homegrown Festival in Duluth," Jensen said. "It sparked an idea and made me think what a great idea it would be to bring a bunch of local bands together for a festival in Grand Forks."
Local talent was certainly in large supply as the Big Forkin' Festival was able to showcase around forty-five local bands over the weekend.
"We were completely overwhelmed with how many bands wanted to play," Jensen said. "But we wanted to give everyone who wanted to play a shot."
One of the original groups that played Friday night included Americana band December's Children. Singer Ryan Johnston says he was very excited about the chance to play.
"This is a great time for local bands to come out and play," Johnston said. "There isn't a very big music scene around Grand Forks and getting the chance to come out and play original music is so important towards building that scene."
Those who attended the festival seemed to be very receptive and encouraging of the original music.
"I think it's great they're starting to create a local music scene here, we definitely need more events like this," said junior Cameron Campbell.
Another noteworthy act from the weekend included a band from Grand Forks called The Mecan'tiKs. The high energy, psychobilly rock group was able to close this weekend's festivities on Saturday night as their set was the last of the night in the Town Square.
"I think the show went great," drummer Kevin O'brien said. "The crowd was into it and it ended up being a good turnout for the colder weather."
Additional band members Cody Johnson and Doug Hunter also stressed how important it is for the community to support their local bands.
"I think it's important to be able to offer people an alternative to cover bands and build a new music culture here," Johnson said. "The younger crowds are looking for music catered towards them."
Hopefully, this festival will be a stepping-stone towards building a permanent foundation in the Grand Forks music scene. There are already plans in progress for this festival to happen again next fall. Festival founder Nick Jensen said,
"We really want to see this festival continue to grow," Festival founder Nick Jensen said. "We want to connect music with Grand Forks for years to come."
Amanda Hefner  is a features reporter for The Dakota Student. She can be reached at [email protected]