Month-long homestand ends in sweep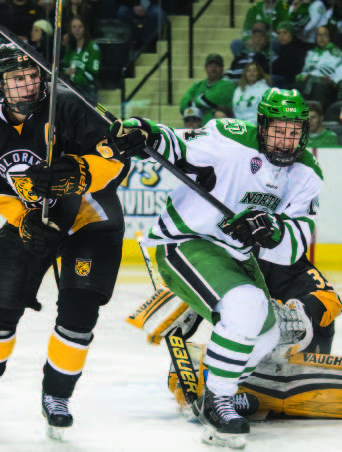 Freshman forward Austin Poganski competes against Colorado College last weekend at Ralph Engelstad Arena. Photo by Nicholas Nelson/The Dakota Student.
A month-long homestand was how the UND men's hockey team welcomed the second half of the season.
There were no familiar steep hills to climb, no substantial ruts to jump out of like many other years — just six games to push closer to the ultimate goal.
North Dakota began the new year with a favorable record. After 25 goals in six games, the only loss came against Minnesota Duluth on Jan. 9.
Unbeaten Saturdays remained intact, and a 18-5-2 overall record set the team as the No. 2 ranked team in the country.
UND's lone non-conference defeat was in its home opener against Bemidji State, and with only National Collegiate Hockey Conference games left, the next step is a race toward the top of the conference.
"The last small steps are probably the hardest ones to make," UND coach Dave Hakstol said.
But there are still improvements to be made.
"Absolutely there are," Hakstol said. "Our goal is to push to become a better team every week. Every week that we have the opportunity to play, as long as that's the case, we're going to push to become a little bit better."
Last weekend, UND played host to Colorado College in its final home series in the stretch before hitting the road, when it clinched a sweep with a 2-1 victory Friday en route to sending the visitors home with a 5-3 Saturday loss.
Senior forward Mark MacMillan tallied his seventh goal in four games on Saturday to help send UND to its fifth sweep of the season. And he wasn't the only skater with a standout performance.
Five different players scored goals, contributing to the notion that this team's depth is what pushes it ahead.
"That's something that's kind of been said all year, especially what we believe in the locker room, the depth of this team,'" MacMillan said. "If we're going to go a long way like we plan to, then our depth is what takes us there.'"
Colten St. Clair joined the trek against the Tigers, playing in his first game back since Dec. 4 after sustaining an injury, though Troy Stecher and Trevor Olson remain out.
Despite the handful of setbacks, Hakstol remains hopeful after St. Clair's return.
"I thought he did a real good job," Hakstol said. "Some of the timing wasn't quite right there, but he was a big part of the game as you look back … I felt like every player on the bench tonight, we could trust in every situation. He was one of them."
UND will travel to Omaha this weekend to face another NCHC conference foe before a weekend off.
Despite losing the first game of the homestand, what sits behind the team remains encouraging with crucial points ahead.
"We weren't happy with the first game of it," Hakstol said. "We felt like we left a little bit on the table there. We didn't play the way we wanted to play, and we lost at home. From there, we turned it. We took advantage of being here at home. That's real important. There aren't many points left here at home."
Elizabeth Erickson is the sports editor of The Dakota Student. She can be reached at [email protected].