Bob Dylan remains an active contributor to music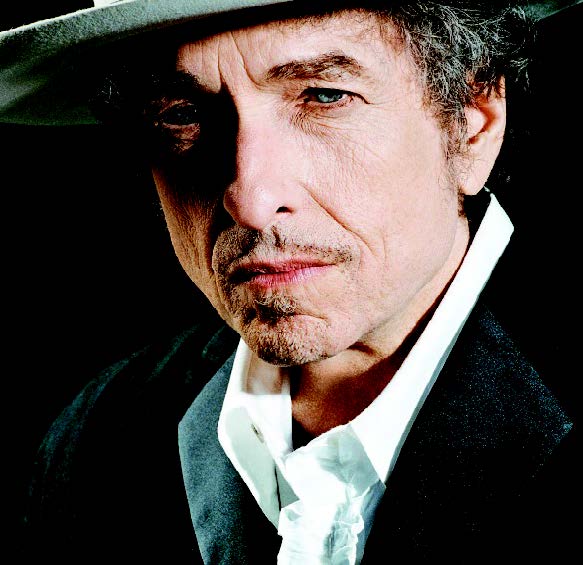 Bob Dylan. Photo via www.americansongwriter.com.
I wasn't expecting to find anything when I searched the Internet for Bob Dylan's tour schedule last week.
To my surprise, he was going to be in Minneapolis the very next night. And though I couldn't get any friends to skip their Friday classes and drive down with me for the weekend, I bought the very last ticket in the back row and hit the road the minute my exam ended Thursday afternoon.
If you don't know much about Bob Dylan, you really should learn. He — along with Bob Marley, The Beatles and maybe Cream — is one of the pillars upon which the pioneers of music have based their art to influenced today's culture.
To interpret the concert I saw at Minneapolis's Orpheum Theatre last weekend, it's necessary to have a little background.
Bob grew up only a few hours away from here in Hibbing, Minn. and enrolled in the University of Minnesota – Twin Cities after graduating high school.
But before Spring semester ended, he dropped everything and moved to New York City after a visit with his folk hero Woody Guthrie, who lay dying in an east coast hospital. Within a few more years, his voice was heard all around the world.
After that, things seemed to get hairy for Bob.
When he began to experiment with electric instruments, his fans, who hailed him as a folk music hero, turned on him. In some of his most famous live recordings in 1966, you can even hear people shout "Traitor, traitor!" and "Judas!" from the audience.
This continued for some time, and in the same year, he got into an accident on his motorcycle. In his autobiography, he writes about the incident, "I'd been hurt, but I recovered. Truth was that I wanted to get out of the rat race."
After the accident, he withdrew from public view for eight years.
As he got older, his voice got more gravely, to the point where it's very hard to understand him at all now.
But this doesn't stop him from recording music, and it sure doesn't stop people from buying it or paying for tickets to his shows. The Orpheum was packed three nights in a row, and he's got another album set to release next year.
So this is what I knew going into the show.
What I knew coming out was not at all what I expected.
The first thing I noticed as I entered the venue was the "absolutely no cell phones or photography" warnings posted everywhere.
Whatever, I thought. It's not that weird to disallow phones or picture taking in a theatre.
Inside, I found myself sitting next to a guy who had been to 44 Bob Dylan shows, and he told me that the ring of extra microphones that circled the one in the center stage were there not as artistic set props but instead to obstruct the view of anyone trying to sneak a picture of Dylan while on stage.
He also didn't play any guitar all night, and I did see people getting yelled at for having their phones out.
So now, the image of a paranoid old man started to creep into my idea of Bob Dylan.
It didn't help that the show's set list was posted on his official website weeks beforehand. That and the fact that he did no talking during the show whatsoever led to a stifled atmosphere in which my role was to sit and enjoy the exact number of songs in the exact order that he promised to play them. For a lack of a better word, the show lacked the "magic" of anticipation waiting to see what would happen next.
Of course, none of this actually prevented me from having a good time. I mean, I was at a Bob Dylan concert! He is the man when it comes to folk, rock, blues and everything in between.
When the megafan beside me let me borrow his binoculars, I got a good look at the person whose music has inspired me 50 years after it was first recorded, and I realized how I was going to prevent this weird new image of him I had in my mind from bothering me: I saw things from his point of view.
I can barely imagine what it would be like to become extremely well known for making music. What's even harder to grasp is how it would feel to find yourself a few years into your popularity struggling between creating the music you want to play and the music your fans want to hear.
He suffered for his decision to be himself. If he's at a place in his career now where he can do anything he wants and people will still enjoy him, how could I blame him for not taking advantage of it? The fact that he smiled as he sang showed me he wasn't doing it to exploit the people who came to watch. If he prefers playing without any cell phone lights dotting the crowd, so what? If he feels more comfortable knowing his picture isn't being taken, why not ask people not to?
People will still come. More importantly, people will still enjoy coming — and that tells me his weird rules don't come out of disrespect for his audience.
In all, it was the biggest learning experience I'd had at a concert, and though I didn't have enough cash for a t-shirt at the merch booth, it will be a concert I remember till the day I die.
Will Beaton is the editor-in-chief of The Dakota Student. He can be reached at [email protected].