Teaching assistant brings new perspectives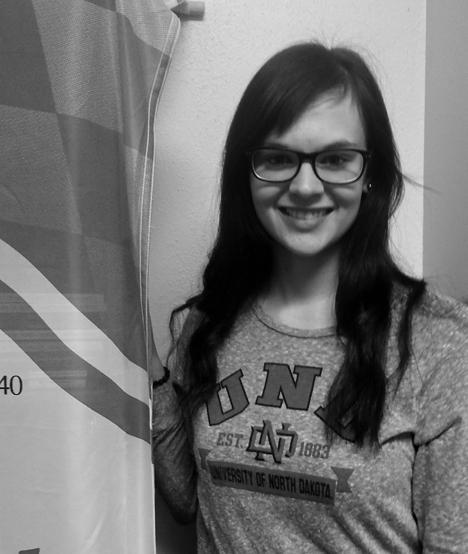 Exchange teaching assistant Michaela Dengg. Photo by Amanda Hefner/The Dakota Student.
Michaela Dengg is a teaching assistant with a colorful background in culture.
She recently arrived at UND all the way from Germany to spend a year abroad working as a teaching assistant in the school's German department.
Dengg says she is very happy about her opportunity here at the University, and, while she has never been this far away from home before, she is easily adapting.
"So far, North Dakota has been great," Dengg said. "'North Dakota nice' is a real thing. The way that people greet me on the street or ask me how I'm doing when I'm out shopping is something I find nice and it enlightens my day."
While she is here, Dengg is gaining a cultural perspective of the U.S. As many students who attend school at the university consider Grand Forks to be a small town, Dengg's perception is different.
"I come from a small village with about 800 people, so this is a big city to me," Dengg said.
While the increase in city size may be a bit of a change from where she is from, coming to the U.S. is something Dengg has always been interested in doing. She says she is excited about living overseas and having the chance to study in the U.S.
"I've always had a huge interest in the U.S. and U.S. culture, so I looked for exchange programs in my university where I could come to the United States through teaching assistant programs," Dengg said.
As a teaching assistant, Dengg currently teaches four classes and gives cultural instruction for various German 101 and 102 level courses.
"I chose North Dakota because I liked the program best and I like that I have the opportunity to give cultural lessons here." Dengg said.
Cultural lessons are an important part of Dengg's time being at the university. In addition to teaching, she also is involved in holding various cultural programs and events on campus such as the Stammtisch conversational group, which meets every Monday at 6 p.m. at Archives coffee house and the German Cooking Club.
These events and clubs are open to all UND students and are great way to learn about German culture outside the classroom.
Through the various events and ways to get involved on campus, Dengg encourages all students to learn about a different culture. She also encourages students to study abroad.
"Studying abroad offers a whole new way of studying and university life and also introduces you to brand new and different cultural aspects," Dengg said. "Plus, Germany doesn't have tuition fees, so I would definitely recommend students study abroad in Germany."
During her time at the university, Dengg will seek to inspire students to learn about different aspects of culture through various campus events and provide a source of knowledge.
Amanda Hefner is a staff writer for The Dakota Student. She can be reached at [email protected].