Simplot strike ends in time for french fry feed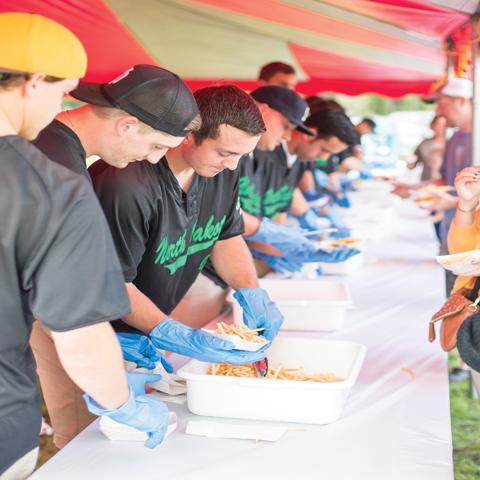 UND baseball team hands out french fries at annual French Fry Feed Thursday in University Park. Photo by Chester Beltowski/The Dakota Student.
The smell of French fries filled the air Thursday, as the community of Grand Forks headed to University Park to attend the "world's largest French fry feed" in honor of the 49th annual Potato Bowl.
The park was a sea of green and black as fans proudly sported their UND apparel, while getting in line for free bowls of French fries served by UND athletes.
The J.R. Simplot Company sponsored the event and succeeded in breaking its previous record of 5,010 pounds of fries served. This year, it served 5,130 pounds of fries to the Grand Forks community.
This came just weeks after J.R. Simplot employees went on strike, with nearly 200 employees walking off the job Aug. 4 after rejecting the company's final contract offer.
The offer proposed was that workers would work four 12-hour shifts instead of five eight-hour shifts, along with an increase in health care premiums and a switch from a pension plan to a 401-K plan for all employees.
After weeks of negotiation, the workers reached an agreement with the potato processing plant in which both sides made compromises. And this deal came just in time for its big social event of the year.
"It's a big event around Grand Forks," junior Jake Larson said. "Its been going for so many years, so I figured it would be a nice thing to check out."
It's an event that seems to be getting bigger every year, with this year featuring a BMX Bicycle Stunt Show.
"The bike show was pretty cool," junior Kat Pfingsten said. "(It) was a nice addition from last year."
The event also included inflatable games, rock wall climbing and a French fry eating contest.
Following the French fry feed, there was a fireworks display, sponsored by Rydell Auto Center, that lit up Memorial Stadium.
"The French fry feed and the fireworks are a great tradition that I look forward to every year." junior Kailey Younggren said. "I feel that it really shows the support of the community for the university teams."
Ashley Carlson is a staff writer for The Dakota Student. She can be reached at [email protected].