Buck ready to move on, earns honors
UND senior ends basketball career for now after playing four years at UND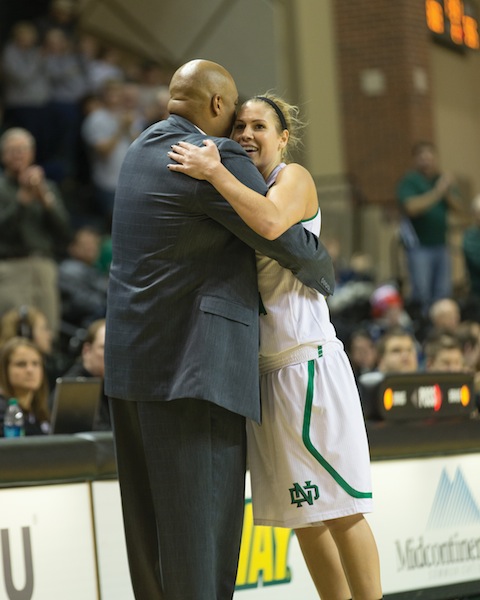 UND senior Madi Buck hugs coach Travis Brewster on Senior Day during the 2013-14 season. Photo by Chester Beltowski/The Dakota Student.
After leading the UND women's basketball team in its 22-10 regular season and then to the school's first-ever appearance at the NCAA tournament, senior Madi Buck earned All-America honorable mention status.
"It's a pretty historic moment for Madi as a young lady here from Bismarck, North Dakota," UND coach Travis Brewster said. "It's been a while since we've had an All-American as that status, especially now that you look at it being Division I and a little bit tougher."
When Buck heard the news, she realized her work had paid off.
"It was exciting," Buck said. "I think it's one of those things that, it didn't really seem possible at some points, but I mean it was always a huge personal goal of mine so finding that out … It was a pretty cool feeling. I was with some of my family so it was cool to share that with them."
Along with the announcement of the 2014 WBCA Division I Coaches' All-America Team, Buck's name appeared beside 41 other Division I athletes, all of whom received the honorable mention. Brewster said the senior was among other players who played at her level.
"If you look at who else is on the list, that tells you the caliber of player she really is," he said. "It's a pretty big honor."
At the end of the regular season, Buck was named the Big Sky Conference Player of the Year after she surpassed 1,200 career points and notched over 750 rebounds in her career with the Green and White.
"From the start to where she is now, I think a lot of hard work and determination paid off with also learning how to handle adverse situations while on the floor," Brewster said. "Madi's done a good job over the years of learning how to combat different situations."
While she led her team with an average of 16 points per game, Buck has been all about the team, and Brewster said she couldn't have achieved what she did without her teammates.
"A big thing is her teammates know it's about them as a group, it's never been about Madi as a person," he said. "I think that's something they know about her."
What's next
Although she seriously considered playing overseas, Buck said she decided she's ready to move on.
"That was a really hard decision for me," Buck said. "I just decided that basketball has been a huge part of my life since I've been little, and playing Division I basketball was my ultimate goal … I'll always love the game. I'll always appreciate the program I was a part of and the history that we made this year, but I was just ready to kind of move on with my life and experience new things and learn the stuff that basketball has taught me and that school has taught me and apply that to the next part of my life.
"It was a very hard decision, and after I get my degree next year, it's possible to play then, but who knows where I'll be at at that point in my life, but as of right now it's not really for me."
While Buck doesn't plan to pursue basketball after graduation, her former coach believes she has the skills to do so if she wants.
"Does she have the ability to (play overseas), I absolutely believe so," Brewster said. "Will she do it? You just don't know."
The human resource management major has one year of school left, and says she hopes to pursue a masters in business administration after graduating.
As for her teammates, Buck said she plans on attending all the home games next year.
"I'm definitely going to be at all the home games cheering them on," Buck said. "I'm definitely going to be a part of it, just from a different standpoint."
Looking back, Buck continues to be grateful for her basketball experience at UND, and says she had an all-around great time.
"I am thankful for the experience," she said. "I know I say that all the time in interviews, but it was just a really awesome experience to be a part of, and I just thank the community and my coaches and my teammates and I thank God that I was able to be a part of it all; it was a lot of fun."
Marie Monson is the multimedia editor of The Dakota Student. She can be reached at [email protected].