Campus eating suffers
Dining centers disappoint, change is welcome.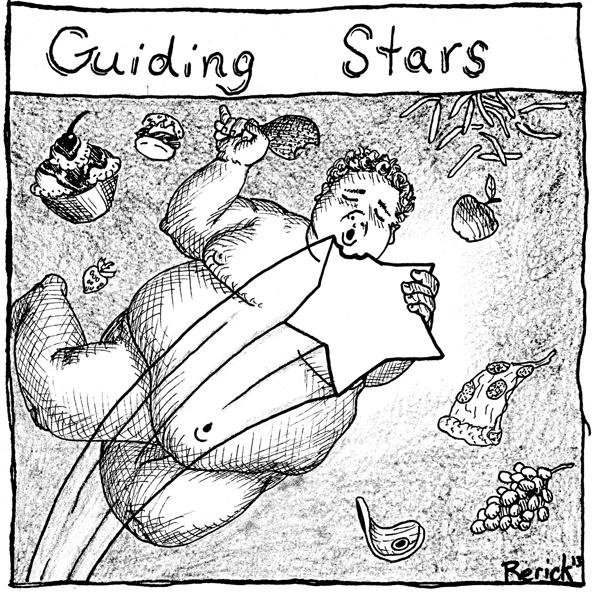 Illustration by William Rerick/The Dakota Student.
Have you ever seen an advertisement for something, thought it was really great, then actually experienced the product for yourself only to realize it was a total flop?
Lately I've been getting that feeling, only it isn't about some late-night infomercial. It's about the dining centers on campus.
When I first went to the dining centers at UND, I thought they would be pretty great. The Guiding Stars system — a system that ranks food on a scale from one to three stars with three stars being the healthiest — seemed like a genius idea. I was impressed there were three main places to choose from on campus, and I figured I couldn't lose no matter which one I frequented.
Boy, was I wrong.
I have a very low tolerance for the dining centers. After eating on campus for two years, I'm pretty tired of the limited selection. The Guiding Stars are basically worthless because I seem to find fewer and fewer of them on new items. As far as staff friendliness is concerned, I've had experiences on both ends of the spectrum.
Watching your weight and food intake can be an arduous task when your selections are so limited. The point of the Guiding Star system is to alert students to foods that are healthier choices. But what if those healthy choices have little to no variation throughout the semester? From what I've found, there seem to be fewer Guiding Stars available. The foods that do carry these stars are the same staple items put out on a regular basis.
This really puts a damper on the desire to keep healthy. It's tempting to avoid the stars and head straight for that Philly or the pasta bar, but I know how much my digestive system will want to thank me afterward.
Eating healthy can leave me full, but I am rarely satisfied. Eating unhealthy foods can certainly leave me satisfied, but that also makes me remorseful of my choices about 40 minutes later. It's a constant struggle, and I know I'm not alone.
I'll admit it's nice to know which foods will usually be available each day and to know their nutritional properties. But I've found that new options are rare. I don't know how many times a week the Asian bar is served; all I know is it's way too often for my taste.
Lunch and dinner can be a trial as well. I almost always turn down the grill, homestyle and specialty bar because, more often than not, they serve items loaded with carbs or grease, and no one wants to experience the classic "Wilkie Waddle" after their consumption. So I settle for the same few items — usually a wrap or some hummus, sometimes a few pita chips and a bowl of soup, or occasionally a salad. When all else fails, I resort to cereal or some granola with yogurt. But having these things practically every day really is not what I want to be spending hundreds of dollars a semester on for on-campus dining.
This might sound rude, but I'm also not paying good money for untimely or unfriendly service at the dining centers. I will be the first to admit it's frustrating enough to have to settle on eating cereal or soup for the third meal in a row, but it's far more upsetting when there isn't a single clean bowl to be found. I've often thought of having a chat with the staff when this happens.
But one never really knows how an encounter with the dining staff will go. There was one day in particular I just felt awkward and unwelcome in one of the centers. My friend and I had sat down for lunch at Terrace with an hour to kill before class. About 15 minutes into our meal, we began to sense the impatience of one of the dining staff members. They began cleaning off our table and practically inviting us to leave when we hadn't finished eating. The awkwardness was too much, so we just left and sat elsewhere until it was time for class.
However, not all the UND dining center staff makes you feel like you're in a drive-through. The ladies behind the grill at Terrace are always friendly and even know quite a few students by name.
Another day, while I was eating dinner with a group at Wilkie, a staff member came over and cleaned the table next to us. She assured us she wasn't rushing us, apologized in case the table we were sitting at might be dirty and even made some small talk with us. To borrow a line from Forrest Gump, the dining staff is like a box of chocolates; you never know what you're gonna get.
It's refreshing to know there is going to be a remodel of Wilkerson. I sincerely hope that along with a remodel comes a plethora of new or different food choices — or at the very least a new panini maker for Wilkerson. I've always thought it should have one.
Remodels are being made to the UND dining centers, but there's still a long way to go. Thankfully, I'll be making most of my own food next year, but the two years preceding that change have been a bumpy ride.
Mary Ochs is a staff writer for The Dakota Student. She can be reached at mary.ochs@my.und.edu.