Appreciating Autumn
I used to think autumn was one of the worst seasons because of what comes after it.  Logical, I know.
This year, however, I'm starting to appreciate its beauty for the time being without viewing it as a representation of what is to come (WINTER!).
The crisp air reminds me of high school cross country practice; although it sucked some days, it was an overall auspicious experience. Fall seems to be nature's way of easing us into the freezing extremities of winter, especially for us upper midwesterners who tough out the multiple months of negative temperatures.
Fall is also awesome because it brings with it everyone's favorite holiday… Halloween! That means candy, which okay isn't the best for you, especially since little kids learn early on to binge eat it every year on October 31, but overall it's a fun holiday.
Growing up in Minneapolis for the first 10 years of my life meant playing a lot of soccer, but for some reason, my district didn't have a girls' team. That did not stop me, from playing, however. I was one of two girls on the Minnetonka Park and Recreation soccer team for a few years, and it was a blast.
That was before the time when boys refused to pass the ball (sorry guys… you know it's true) and when there were half-time snacks! My mom would always cut up oranges and, bless her for her healthy efforts, everyone would just quickly suck on them and throw them on the ground so they could move on to the s'more-flavored Poptarts.
Yes, autumn has a lot of memories connected to it. This just goes to show that living in a part of the country with four seasons does have its benefits, even if Grand Forks, ND is one of the more severe locations.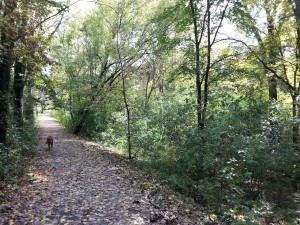 This is my dog Lilly trotting along the beautiful walking path near my house in Minnetonka two weekends ago. At 12 years old ,she has become quite the slow walking partner, but she's taught me to enjoy the journey and take in the beautiful autumn colors.