Archives Coffee House
Support the locally owned coffee house by participating in all of the fun events hosted at the shop 
At the corner of University Ave and Harvard Street, Archives Coffee House opens its doors to students, staff, and community members to serve a variety of beverages and foods while also hosting exciting events. Archives is a locally owned coffee shop that was founded in 2008 and is dedicated to "building community partnership." The Archives Coffee House website says, "whenever you make a purchase at Archives, you are giving back to the community."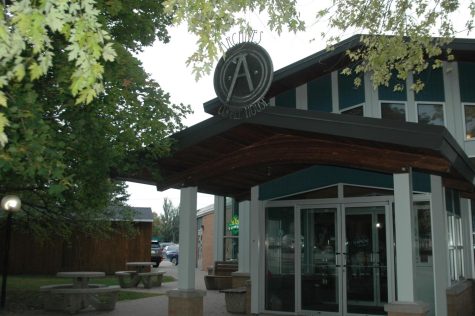 Archives is owned by Kyle Thorson who has been committed to helping grow the coffee house over the past couple of years. The Covid-19 pandemic caused many obstacles for Archives, as well as thousands of other small businesses across the nation. In fact, the U.S. Bureau of Statistics reports that "56% of small business establishments faced a decrease in workers, and 34% of America's small businesses were closed all throughout 2020 and 2021 due to the pandemic." Since then, Thorson has been dedicated to helping rebuild the coffee house and guarantee its financial stability.  
Additionally, Archives is known for its plethora of community-inclusive events. They routinely host painting workshops, open mic nights, live music, and more. These events not only bring in guests to the shop, but they also bring more positivity and human connection to the campus. Also, Archives is committed to being a space of inclusivity and allyship often hosting fundraisers for LGBTQ+ organizations. For example, Archives routinely hosts events like free brunch buffets and barbeques in Pride Park that are open to any visitors. To be able to give representation to students on campus who might not always feel supported is a very empowering thing, and it reveals the truth about Archives' commitment to serving the UND and Grand Forks community.   
Archives Coffee House is also known for the perk of being able to serve alcohol to adult students and staff. Archives was recently given a permit to serve alcoholic beverages, making it the only place on campus with these types of products available for purchase. This means that Archives Coffee House can be not only a place for a morning espresso drink or an afternoon pick-me-up, but it can also be a space for those that are of age to unwind and enjoy a beverage after a long day.  
In August, Archives hosted a Monkeypox Education and Vaccination event, where North Dakota Health shared information about the viral disease while educating the public on how to detect symptoms and prevent the spread. They also distributed vaccines to consenting individuals at the neighboring Christus Rex Library.  
Every month, the coffee house carries a special beverage menu. For September, they created several different Harry Potter themed drinks, including the Lavender Brown vanilla lavender latte and the McGonogall London Fog and British Brunch tea blend. In October, you can surely expect some fall flavors to be on the specialty menu. Archives also carries several different options for purchasing bakery items for events or holidays, and they also sell coffee beans and syrup flavors in bulk. These are great gifts for family and friends and a wonderful approach to helping show Archives support.   
Archives also plays a helping hand in supporting other small businesses and local artists. Cackling Toad Creations is a small jewelry business owned by Cathy Kalstad, and her earrings are available to purchase at Archives. Even handmade watercolor cards and canvas paintings are displayed in the shop as well. If you are a student at UND who is looking to sell your art, try reaching out to Archives to see if they would be able to display your work!   
A recent addition to the coffee house is the "Pick a Penguin" incentive. Next to an assortment of penguin stuffed animals is a card that reads, "Want to study and be left alone? Want to be social and converse with other Archives guests? Then pick up a penguin!" Simply pick up a penguin that coordinates with your needs and set it next to you wherever you choose to hang out. Archives is a great place to meet new friends or to have some alone time, and this added incentive helps guarantee that your needs will be met as a guest at the coffee house.  
If you want to get involved with Archives, they have many different events scheduled for the upcoming weeks. On October 17th, they will be having a public play reading – Night Shadow by Dr. Hamzat Koriko. On October 23rd, there is a "Brew Can Do It" Halloween-themed painting workshop. You can learn more about their events on their Facebook page or by signing up for their e-mail subscription on their website. Still, simply showing up and making a small purchase is beneficial to keeping the coffee house up and running. It is always meaningful to contribute to small local businesses, and Archives is a wonderful place for you to do it.   
If you are looking to support more locally owned businesses in the area, there are many different places to choose from. The Grand Forks area has a handful of options if you are looking to shop. If you are on the hunt for records, head to Washington Street. DogMahal lives on the corner just off University Ave, and they have a variety of records, comic books, and more – plus, you can get a hot dog for the road! Budget Music also sells music-related products, as well as clothing and jewelry. Additionally, in case you are looking for something to read, check out Ferguson Books, or even any nearby consignment store. If you like antiquing, try out Gramma's Attic, Picks, or Victorian Rose Antiques. Grand Forks also has many different small business floral shops to check out. Whatever you are looking for, there is definitely a place for you to shop from that will be giving back to the region.   
In a place that dedicates so much of their time and effort to serving the community, it is only right for us community members to give back to them. Archives is open Monday through Saturday from 7 am to 9 pm, and Sundays from 11:30 am to 9 pm. Every purchase you make and every event you get involved in will directly impact the future of Archives – plus, it is always fulfilling to support others. Whether you stop by for a quick caffeine fix or decide to attend an open mic night, Archives will be happy to have you. 
Ava Stockstad is a Dakota Student General Reporter. She can be reached at [email protected]