Grand Forks Food Truck Festival
The Grand Forks Food Truck Festival celebrates creative cuisine and community while overcoming pandemic-induced difficulties. 
I had the opportunity to speak with the event producer, Mike Schmitz, who greeted me by asking "Do you want to do something really f***ing cool?" And how can you say no to a question like that? Turns out, I got to be the lucky judge of the Sweet Tooth Competition. Each year the Food Truck Festival hosts creative contests to keep customers interested and add an element of competition for vendors.  
I tasted several delicious dishes such as Mango Sticky Rice from Little Bangkok, a Deep-Fried Snickerdoodle with bacon topping from S&S, an Apple Panini from Hot Off the Press, a Deep-Fried PB&J from Mac Daddy's, a Sesame Ball Truffle from The Wok, and my personal favorite and chosen first place winner, a Seven Layer Bar Mini Donut from Sweet Dreams.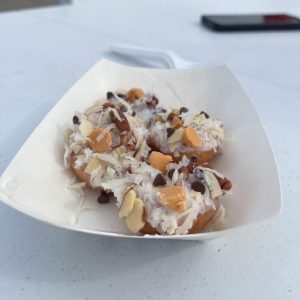 While Mike and I taste-tested these unbelievable sweets, we talked about the history and future of the Food Truck Festival. The festival is not a Grand Forks exclusive, but rather a state-wide series of events. Mike started the first Food Truck Festival in Fargo, back in 2013, as a way to drive business to his then endeavor at the North Dakota Horse Park in Fargo. He then expanded to Bismarck in 2015, and today covers several cities in North Dakota. The festivals are now a local favorite and have a continued goal of growth and innovation. One way in which the Food Truck Festival seizes the opportunity for growth is through contests, like the Sweet Tooth contest, which I was fortunate enough to witness first-hand. Mike reflected on past contests which included, a Bloody Mary Skewer contest, a bacon challenge – where each participant receives five pounds of bacon and is challenged to create the best bacon dish, an OctoberFest-themed contest, and of course, the Sweet Tooth Challenge.   
The fun contests go beyond a marketing strategy. Mike has an overall goal of uniting the community while creating more economic possibilities for vendors. The Food Truck Festival was introduced to Grand Forks during the Covid-19 pandemic for that very reason. Many events where the food vendors would normally make their profits, like county fairs, were canceled, leaving food trucks struggling and on the brink of disappearing.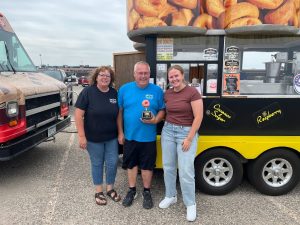 The festival offered an option for vendors to make up some lost profits, and for the customers to support the vendors while enjoying some "fair food" classics like corn dogs, mini donuts, and fried pickles. Ever since they have continued to grow and have brought a sense of unity, not only to the food truck vendors many of which participate in the festivals year-round but also to Grand Forks residents, who now look to the event for delicious food and community growth.  
Victoria Ledum can be reached at [email protected]