Greater Grand Forks Prepares for Flooding
A look into what the community is to expect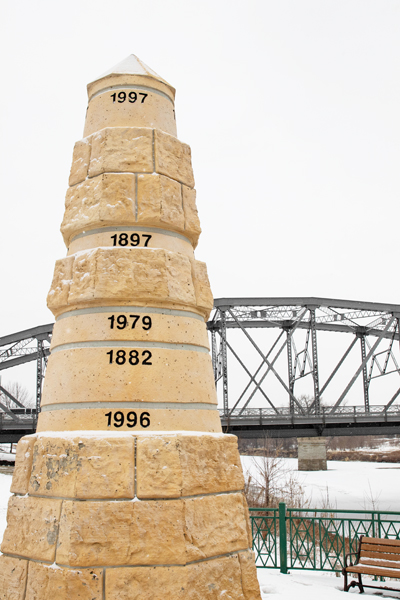 As the harsh winter subsides into spring, temperatures begin to rise in Grand Forks so does the risk of flooding the Red River Valley. Over the course of the winter the valley received more 70 inches in most areas. The drastic amount of snow has led to the latest predictions that there is a 95 percent chance that the Red River will crest at 45.8 feet in Grand Forks and a 50 percent chance that the river will crest at 50.6 feet, official flood stage in Grand Forks is 28 feet.
Although the latest temperatures have led to a slow melt, Grand Forks Mayor Mike Brown signed a flood emergency on Monday, March 25 which gives the city the authorization to close flood-impacted streets and gather resources to begin flood response measures. The last time the city has been under a flood emergency was in 2011, the flood emergency will last 30 days and will be extended if necessary. Following Mayor Brown's decision, North Dakota Gov. Doug Burgum declared a statewide flood emergency on Wednesday, March 27 which will allow for the state to be prepared and activate the North Dakota National Guard, if at all necessary.
"This emergency declaration is an essential step in making sure that state personnel and equipment are available and ready to respond when significant flooding threatens the safety of people and property, and toward pursuing a federal disaster declaration that could bring additional assistance to local residents and political subdivisions," Gov. Doug Burgum said in a statement.
Burgum has also requested that all state agencies 'maintain a high readiness levels' and activated the North Dakota State Emergency Operations Plan.
With flood response efforts underway Fargo, our neighbor to the south, has begun sandbagging already planning to fill around one million sandbags with Grand Forks following suit attempting to fill around 10,000 sandbags. The county has sandbags available for pickup free of charge in Grand Forks and surrounding areas such as Manvel and Emerado.
As far as on-campus efforts go the university already has a plan in action to combat the possible flooding as a part of UND's emergency operation plan. Facilities management along with UND's emergency management are in charge of planning what steps to take to ensure campus safety for all students, staff and faculty. The main focus of possible flooding on campus is the English Coulee, sandbag efforts are lined-up to combat overflow if that situation arises. The university is also working very closely with the city to help prepare and respond in the event of crisis.
With the flood outlook constantly changing due to melt conditions, the weather service hopes for little to no precipitation in the future weeks as any precipitation can add to the increasing river levels. All Grand Forks residents are expected to be impacted by future road closures, The bridges into East Grand Forks are expected to close first as the Sorlie Bridge on DeMers Ave closes at 45 feet and the Kennedy Bridge on Highway two closes at 52 feet.
UND has also launched a flood blog to help the university community stay up-to-date regarding the latest flood predictions. The city has also launched their very own flood website with information and ways to be prepared and remain safe during this time.