French Taste on Campus and In the Community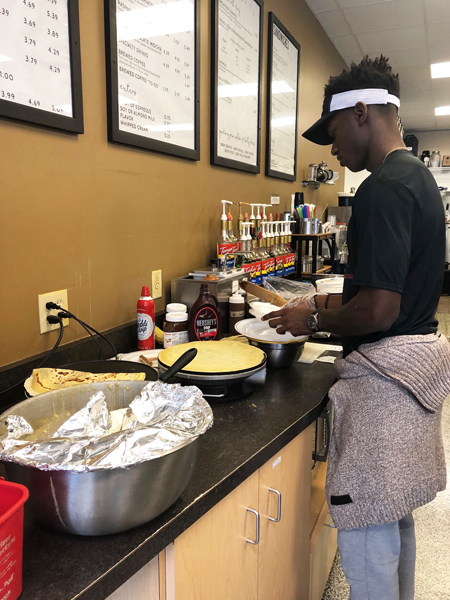 On Valentine's Day this year, the students of the University of North Dakota got a special treat, a taste of France would be available in the Memorial Union for students to enjoy. Warren Sai, a junior studying marketing opened his own business, specializing in crêpes, a French taste that is not common in Grand Forks.
Sai's business started to take off this summer and he credits the Grand Forks community for their ability to offer a platform to allow his dreams to become a reality.
"The community of Grand Forks has a lot of opportunity to offer and the Farmer's Market and the New Flavors Food truck were one of the first non-profit organization to help me spread awareness of the French cultural food that I make from back home," Sai said.
It is common for UND alumni to do amazing things after their time on campus, from hockey superstars, to commercial airline pilots, to CEOs of popular businesses, but to open their own business while being a full-time student is demanding.
"Timing is an essential part of operating my business," Sai said. "Being a full-time student gives me a different lifestyle to manage my time as a business owner and a full-time student."
All students feel the pressure to balance all of the demands of college, but Sai has just one more big business, and dream on his plate. Despite the challenge of being a full-time student and full-time business owner, Sai has large plans for his future with his business. He sees himself growing in large ways.
"In a year from now French Taste will open a store in downtown Grand Forks," Sai said. "I believe five years from now French Taste will be in the new Memorial Union and will also have its products in stores such as Hugo's, Walmart and Target in the state of North Dakota and later expands its products out of state."
This expansion is just getting started. Crêpes are available for brunch on Sunday mornings at Bully Brew coffeehouse. Sai mentioned that at the Farmer's Market this summer, the idea of coffee and crepes was created. Sandi Luck who is a professor and a business owner in the Grand Forks community had the idea to partner Sai's crêpes with her coffee. Now on Sunday mornings, members of the community can enjoy a delicious brunch.
Throughout the expansion of French Taste LLC, Sai keeps a common theme throughout his dream, he wants to spread culture awareness of the French culture through great food, great customer service and a great experience.
"Most students never had a crêpe that is savory, and I have the opportunity to bring the French experience from Paris to taste here in the community of Grand Forks," Sai said.
You can enjoy a crêpe from French Taste LLC in the lower level of the Union from 10 a.m.-2 p.m. Monday-Friday. On Sundays, you can enjoy brunch at Bully Brew, in East Grand Forks, from 9 a.m.-1 p.m.
You can find them on Facebook and follow them on Instagram to keep up to date with Sai's business adventures, aspirations, and achievements.