Goodbye Sweethearts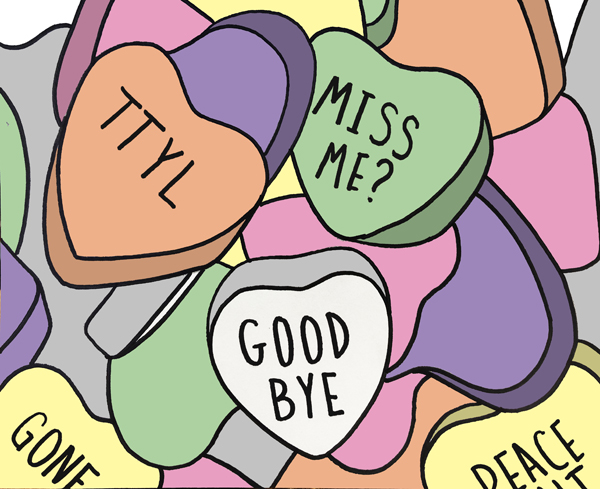 With Valentine's Day around the corner, stores have their shelves filled to the brim with festive candy. One popular hate-to-love or love-to-hate candy has not made its way to shelves this 2019 Valentine's Day season, Sweethearts Conversation Hearts. This will mark the first Valentine's Day without Sweethearts in 153 years.
As reported by Candystore.com, the popularity of the sentimental candy had risen over the past five years peaking in 2018 as the number one Valentine's Day candy. Yet, the sweet sayings of "Be Mine" and "Kiss Me" could not keep their producer, the New England Confectionery Company, better known as NECCO, above water.
The concept behind one of America's favorite candies dates back to the 1860's, as Daniel Chase, the brother of NECCO's founding father, Oliver Chase, started printing saying on candy. Many were entertained by the various sayings such as "Married in white, you have chosen right" and used them for many special occasions. The Sweethearts we know today date back to 1902 and were originally produced in other shapes such as postcards, baseballs, horseshoes and watches. The lengthy conservative sayings were changed to shorter sayings we still know today as "Marry me" and "Be True." Over the years, the candy has adopted new sayings to keep up with the times such as "Call Me" or "E-mail Me."
After years of success, in July of 2018, the company announced that they had gone out of business. During an auction, Round Hill Investments swooped in and bought NECCO. What looked like a saving grace for Sweethearts, was quickly left open-ended as months later Round Hill sold the NECCO wafer brand and Sweethearts to Spangler Candy Company, known for their famous Dum Dum lollipops.
Don't fret just yet, Spangler has announced that the Valentine's candy we all know and love will be back on shelves next year.
"There are a lot of manufacturing challenges and unanswered questions at this point, and we want to make sure these brands meet consumer expectations when they re-enter the market," Spangler Chairman and CEO Kirk Vashaw said in a statement.
The company further explained that they did not acquire the brands until September and were just simply unable to successfully produce Sweethearts for this Valentine's Day. With plans of relaunch for the future, NECCO wafers will also be re-introduced to the market sometime this year.
The Spangler Candy Company released a graphic with three conversation hearts that enclosed the sentiments of "Miss U 2," "Wait 4 Me" and "Back Soon."