Mimi Eiden
Eiden "soccer family" led her here to UND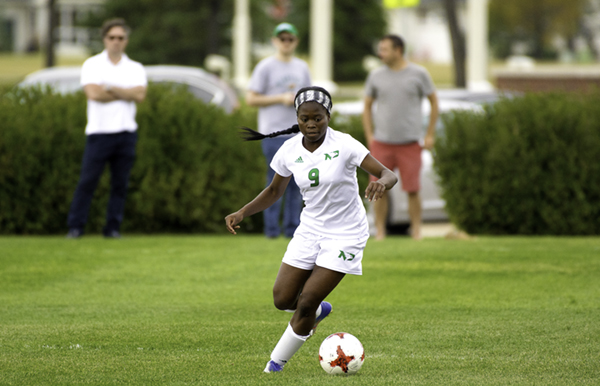 Mimi Eiden, a freshman on the UND women's soccer team, made herself right at home this year.  
After a short settling-in period she began contributing points consistently. Eiden ended up with two goals and three assists by the end of the season, the second leading scorer on the team behind junior Katie Moller.  
Happy but not satisfied, Eiden is excited to continue working towards an even better season in years to come. 
"I think we can definitely improve. We didn't quite reach my goals for the team this year, which were to make it to conference playoffs," Eiden said. "It was a little bit of a heartbreak being one point away from reaching that goal." 
Eiden is confident in her teammates and herself regarding the upcoming season. The team has the opportunity to improve and learn from their past mistakes.  
"Our team is really good about progressively getting better," Eiden said. "We fix one thing and right away look for the next thing." 
Eiden is positive that through the hard work and dedication of the team they will be able to reach their goals. The soccer team has a short spring season which will provide a chance to work on improving against some teams in the North Dakota/Minnesota region. 
Eiden grew up in Forest Lake, Minnesota where she attended high school for two years before completing her associates degree post secondary education options from Northcentral University.  
Here at UND, Eiden is working on her major in communication. Although unsure about what will come after graduation, she looks at a communication major as a great jumping off point. 
Soccer has always been a part of Eiden's life whether it was through high school and club soccer teams or right at home with her family. She is one of 17 children who range from age one to 25 years old. They're a self-proclaimed "soccer family" and Eiden talked about how they would constantly be playing soccer in their backyard. 
Five of the children, including Eiden, were adopted at the same time from Liberia. The other 12 children are all biological. 
"My dad wanted to adopt one child and my mom wanted to put down six children (on the adoption form)," Eiden said. "It was crazy because they ended up getting five of us who all came from one family there." 
They're a super close family and Eiden said she wouldn't have it any other way. 
"It's a big family and I love it," Eiden said. "Everyone in the family has a pair. The oldest two are super alike and it goes down from there. My closest brother and I are always together." 
Eiden was looking at a couple other schools closer to home, one of which was the University of Minnesota, where she would've played soccer as well. However, she fell in love with the campus and the personality of the team when she came to visit UND. There was something right about Grand Forks that she couldn't turn down. 
Although Eiden moved away from her large family she was able to find a second one right here at UND. 
"The best part about the team is that we're like a family," Eiden said. "I know other teams hang out during practice and games but we're together all the time. It's like a support system. If one person is down we lift them back up."