LGBTQ+ Ally Training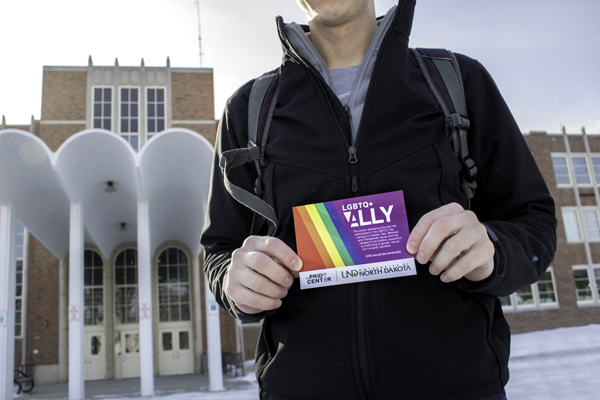 Maddie Ardelean, Arts & Community Writer
January 28, 2018|75 Views
This past Friday, seven members of the UND community gathered in a quiet conference room. Seated around a conference table, facing a powerpoint, everyone chats quietly, waiting for Jeff Gibson, the Senior Program Manager for LGBTQ+ and Cross Cultural Programming, to begin Ally Training.
Ally Training is a program started by UND to inform non-LGBTQ+ students, staff and faculty about the challenges that come with being LGBTQ+, and how they can help. The program is designed to educate and empower the UND community to become part of the solution to intolerance.
What is Ally Training like? Ally Training is a relaxed, small group, participation based experience.There's no judgement, no pressure and any level of knowledge is welcome. Participants aren't required to agree with anything presented, but are just asked to keep an open mind and challenge their current perspectives. According to Jeff Gibson, it's a program "that can benefit anyone."
Why would one participate in Ally Training? According to Gibson, Ally Training helps the UND community become more aware of LGBTQ+ issues and makes people more aware of the diversity of our campus. It also gives participants the opportunity to make a greater difference in the lives of LGBTQ+ students.
LGBTQ+ people have a far higher rate of mental illness and suicide attempts than non-LGBTQ+ people, so being equipped and informed to better support them as a friend can make a huge difference. Ally Training also makes non LGBTQ+ UND students more informed and therefore more comfortable with their colleagues who are.
One participant wanted to become "more accessible to other students," a goal that is certainly achieved through this training. Through Ally Training, you become equipped to be a visible ally, one who isn't afraid to stand up for the rights of others.
What do you learn in Ally Training? First, participants get a basic background in the history and development of LGBTQ+ issues and rights. After that, the the seminar moves on to terminology, what terms mean and which ones are respectful to use.
The training also explores gendered language: what it is, how it hurts others, and non gendered, inclusive replacements for commonly used words, including pronouns. It teaches gender neutral pronouns someone may use, how to pronounce them, how to ask someone's pronouns and what to do if you don't know someone's pronouns.
The seminar also helps increase awareness of the privilege non LGBTQ+ people have. At one point, the trainees did an exercise to help them see what the "coming out" process can be like. Participants were given different colored stars, wrote their names in the middle and on the points of the star wrote the name of their best friend, their dream job, a close family member, a community they're active in and their hopes and dreams for the future.
Gibson read through different scenarios that could happen when a person comes out, and based on the color star you were assigned, the people on each point of the star reacted differently to your coming out. If the person on the point reacted badly, the participants had to fold back or tear off that point of the star.
Some participants had all those close to them react well, and were in mostly the same position they were before "coming out."
Other participants, by the end of the exercise, had lost all the people they were close to and became, in this exercise, part of the 40 percent of LGBTQ+ people who attempt suicide.
You could see the hurt and pain on their faces as the participants realized that some people actually lived this experience that they could barely stand the thought of. As all the trainees saw explicitly, being a good ally is so important and could literally save a life.
What are some steps you can take to be a better ally? The most important thing one can do, according to Gibson, is simply be there to listen. Be kind, supportive, and put yourself second and just be there for those who need it. If you're unsure of how to help, simply ask, "How can I help you?" Use inclusive language. For example, instead of "Do you have a boyfriend/girlfriend," say "Are you seeing anyone?" It's little things like that, things that non LGBTQ+ people might not even think of, that make a huge difference to members of the LGBTQ+ community.
Being an ally is a choice and it is proved through action. Attending UND's Ally Training (the next one is offered Feb. 12) is an action to take in empowering oneself to fight hatred and intolerance in the UND and larger Grand Forks community.
Maddie Ardelean is an A&C writer for Dakota Student. She can be reached at [email protected]