Moose on the loose
Manitoba Moose host Iowa Wild at the Ralph Engelstad Arena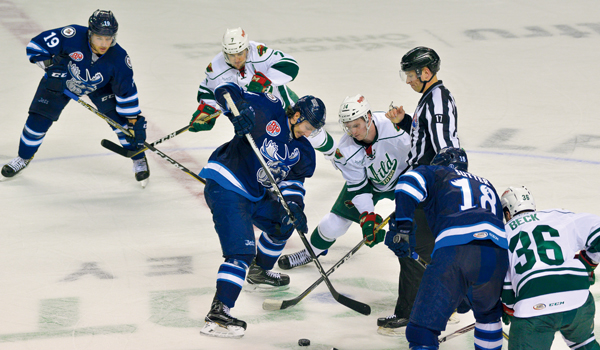 On Friday Sept. 29, 2017, the Manitoba Moose played their annual preseason game against the Iowa Wild at the one-of-a-kind Ralph Engelstad Arena. For many fans, this is just another preseason game, but for the players this is an important game for their future in hockey.
The Moose and the Wild rosters are filled with current American Hockey League, East Coast Hockey League, many different Canadian junior leagues and recently graduated college hockey players. For those who are not current AHL players, these preseason games are an evaluation of how they can adjust to the more demanding, physical and strategic style of play. This especially for the former college hockey players.
College hockey historically has been the less popular route for many hockey players looking to advance their hockey careers. Recently there has been a shift in the culture, and more young players are looking to go the college route to develop their game and strength instead of playing many years of junior hockey.
For current Manitoba Moose and former Michigan State player Mason Appleton, the choice to go to college was simple.
"For me, I came into college still needing to build my body, put on strength and speed," Appleton said. "I was only there (Michigan State) for two years, but I felt it (college hockey) helped my game, and make me ready for the pro level."
The development of the player in college hockey can be instrumental to a player's success in their careers. Friday's game was a prime example of what these former college hockey players can contribute.
Both goals for the Iowa Wild were scored by former Notre Dame player Mario Lucia. One of those goals was assisted by former Quinnipiac player Sam Anas, who played for Quinnipiac in the 2016 National Championship game against the University of North Dakota.
As for the Manitoba Moose, the game-winning goal was scored by former Lake Superior State University forward Buddy Robinson. Former Miami University player Cameron Schilling assisted on the game tying and game-winning goal.
Former college hockey players lit up the scoreboard on Friday night, but many contributed in the areas of the game that go unseen to many fans. Moose player Mason Appleton created countless turnovers in the neutral zone and played a physical game with his 6'2" 201-pound frame. While Appleton stayed off the score sheet in his first game, he was happy with his play in his first AHL game.
When asked about his adaptation to the AHL style of play compared to college hockey, Appleton felt it was natural.
"The strength of the players and structure of the game," Appleton said. "College hockey I see as more run-and-gun style of play, and I think this (AHL) is a much more structured and simple style of play. Which I like to play."
Friday's game was exactly what Appleton meant. Simple and structured. Both the Wild and Moose were playing a chess game with one another. Each waited for the other to make a mistake, so they could capitalize on those mistakes. As the game progressed, so did the mistakes, especially in the second period.
The second period was filled with penalties. The Wild scored their only goal of the period on the power play. Neither team could capitalize on any other power play. That shows the strength of each penalty kill.
While there were plenty of opportunities from penalties as the intensity of physical aspect of the game ramped up, each team stuck to their game and structure, especially the former college players.
Only time will tell how these players' carriers will pan out, and if choosing the college route was worth it for those few who did. If Friday night was an indication of the future of these players, then the college route was definitely worth it.
Kyle Kinnamon is a sports writer for Dakota Student. He can be reached at [email protected]