UND Art at the Empire begins second season
VARIETY: UND Art Collections holds show spanning wide range of mediums, eras.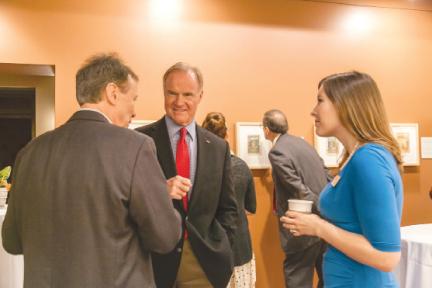 UND President Robert Kelley visiting with UND Art and Design Department Chair Arthur Jones and Empire Arts Center Executive Director Emily Burkland at the UND Art Collections's season opening show Tuesday night. Photo by Keisuke Yoshimura.
Tuesday was opening night for the UND Art Collections Gallery at the Empire Arts Center in downtown Grand Forks.
Faculty, staff, students and the public gathered at the Empire to view both new and old pieces in the gallery.
"I'm here to support the arts and support the arts collection down here," UND spokesperson Peter Johnson said. "We're very excited that we opened this up last year and that we have a piece of UND down here in the heart of the city. We have these very impressive pieces."
Tuesday was the opening show of the second season and contained many new and old works in various mediums.
"The unique thing about this show is that they have new acquisitions in the collection, so this is their first appearance the city," said Dawn Botsford, events coordinator in the Office of Ceremonies and University Events. "(It's) hard to beat. There isn't anything like it between Minneapolis and Seattle for what we have here."
Some of the collection boasted artwork from names such as Dali, Goya, Millet, Matisse and Warhol. Walls lined with paintings, sketches and manuscript pages stood next to glass cases containing fragile pottery and sculptures from ancient Egypt, Greece and Rome.
"I've been trying to build the university's collection. I've been actively looking for artworks to enhance the educational opportunities for students," UND Art Collections director Art Jones said. "In many cases, you don't have any (artwork) examples of old historic periods. There's nothing to be seen of in this region, that I'm aware of, representing the art of Ancient Greece or Rome for example. I'm acquiring examples — even if they're minor examples."
Unexpected significance
While people tend to think of big cities to house growing and popular art scenes, Botsford and Johnson agree there's already a significant art culture in the Midwest.
"I think there's a great art culture in Grand Forks. Downtown has really become a hub for it," Botsford said. "People are more in tune to what's happening in the art world, and I think there's been more people learning about art and how to view it."
Johnson even said that Grand Forks has "the most comprehensive arts community in North Dakota."
"It's been strong for many years," he said. "It kind of goes in peaks and waves, but the visual, musical and literary arts are strong here."
Jones sees the show as a way for the school not only to contribute to the community, but also take part in President Kelley's Exceptional UND plan.
"Grand Forks isn't going to become as big as New York City, but I do think we can enhance the life of people by bringing things into their lives to see that they haven't had experience with locally before," Jones said.
While many feel they lack the expertise to view and understand art, Jones aims to change that to make high forms of art more accessible to everyone.
"One of the things I have really tried to do, is provide information in text panels (next to works of art)," Jones said. "People will be able to better understand things or better have the works communicate to them."
Paula Kaledzi is a staff writer for The Dakota Student. She can be reached at paula.kaledzi@my.und.edu.