Ambassadors of the Potato Bowl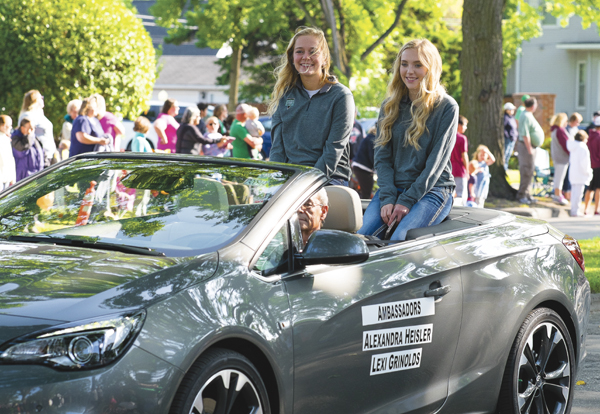 The Potato Bowl is known for the french fry feed, the parade and the annual football game to follow, but there are also Potato Bowl ambassadors. These ambassadors are students who are children of potato farmers here in the state of North Dakota.
These students are notified about a scholarship opportunity and are encouraged to apply to be selected for one of two $1,000 scholarships from the Northern Plains Potato Growers Association. If selected for this scholarship, the winners become the year's ambassadors to the potato bowl.
Some of the duties include recognition at the Alumni dinner, an appearance in the potato bowl parade, tailgating and other public appearances during the potato bowl. By serving as an ambassador, these students are leaders in action through their dedication and hard work, encouraging other students to take the lead themselves and excel in all that they do.
Alexandra Heisler is a student from Cando, North Dakota. She is a senior at the Minnesota State University-Moorhead where she currently studies speech language pathology. This was Allie's first potato bowl she has attended. Her parents Brent and Jennifer, both graduates from the University of North Dakota, are familiar with the week of festivities.
"I found out about the application in the spring and decided to apply for the scholarship," Heisler said. "The application process is you apply, then you are notified via a letter about whether or not they are a recipient of the scholarship or not. I feel incredibly blessed to be a recipient of this scholarship and am grateful for the opportunity to come be an ambassador for the potato bowl."
Her father has been a potato farmer for over 25 years. He started farming in high school, then went to the University of North Dakota, hoping to escape the small-town life. After graduating with this degree, an opportunity arose and he found himself back in Cando as a potato seed supplier.
He now supplies potato seed to farmers across North Dakota. Allie's father's work ethic and dedication is clearly reflected in Allie through her involvement in various student organizations across the Minnesota State University-Moorhead campus. Allie is active in National Student Speech Language Hearing Association and the Collegiate Sertoma Club, which provides students with various volunteering opportunities in the Fargo/Moorhead area.
Allie is also a member of Chi Alpha, a Christian organization that has weekly meetings and leads a small group that encourages students to grow in their faith during their time at the University. She is a fan of intramural sports. An athlete in high school, she has felt that this is a wonderful way to stay connected to sports in college.
This is the first time that Heisler has attended any of the potato festivities during the Potato Bowl.
"Being able to be a part of the UND fan luncheon, parade, tailgate with Fighting Hawks fans and be recognized at halftime is so incredible and reflects the character of the community.
"I am excited to attend my first ever Fighting Hawks football game and I am looking forward to it," said Heisler.
Lexi Grinolds, a Grand Forks native, is a freshman at the University of North Dakota. She is currently deciding between a degree in athletic training or training to become a physician's assistant. Her parents are Jennifer Alvstad and Duane Grinolds of Grand Forks, and her father works for Midwest Potato Services.
A 2017 graduate of Grand Forks Central High School, she was a member of the National Honors Society National Technical Honor Society, and Health Occupations Students of America. She was a member of the Basketball and track team and was nominated track captain her Junior and Senior year.
"These first three weeks have been wonderful so far. I am enjoying my classes and celebrating the potato bowl. Since I am from Grand Forks, I have been attending Potato Bowl events since I was little and I was exciting getting to be so involved this year.  Being recognized on the field was something I was looking forward to," Grinolds said. "I am learning more about this university by attending the fan luncheon, the parade, tailgating and the football game. I am incredibly grateful for this opportunity."
To be a part of the potato bowl ambassadors program, one needs to be the son, daughter, or grandchild of Northern Plains Potato Growers Association growers and associates. They are selected by an independent committee based on academic performance and school and community involvement. The ambassadors of the potato bowl and strive to empower the students of UND to be involved in their community through community service.
Cameron Cloyd is a staff writer for Dakota Student. He can be reached at [email protected]