O' For Heaven's Cakes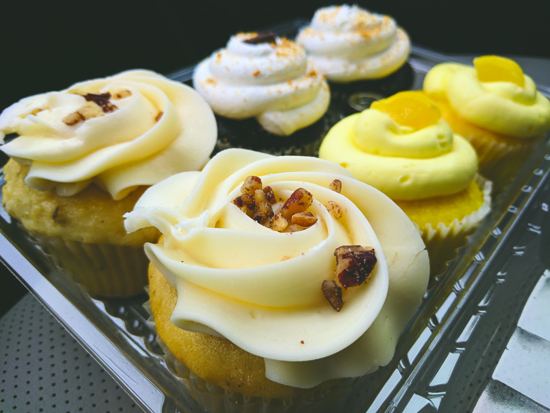 As the only specialty cupcake store in Grand Forks, O' for Heaven's Cakes N' More is a gem that will satisfy the cravings of almost any sweet-tooth. Voted as one of the Best 10 Bakeries in North Dakota by www.bestthingsnd.com and the winner of the "Best Cake" People's Choice Award by the Grand Forks Herald for the fourth year in a row, the bake shop is a local favorite that offers cupcakes, made-to-order specialty cakes, cookies and other treats.
From the group of construction workers who, still wearing their safety vests, sit at a table to have some chili and coffee on their lunch break to a few children who snack on chocolate cake pops, the customers who fill the dining room seem to come from all parts of the city. Tien Nguyen, a UND Accounting student, is impressed by the bakery's ability to bring so many people together.
"It's a spot in town that seems to bring a lot of people together," he says, while munching on a "Dirt" cupcake, complete with double chocolate frosting and neon gummy worms. "Grand Forks is a college town and so usually, you only see students everywhere. Not really the other residents in town."
Nguyen also stated that he likes the bakery because it's the only one of its kind in town and it reminds him of the smaller ones that he grew up with in his St. Paul neighborhood.
The interior is cute and almost kitschy, with mismatched tables and chairs and the glorious array of cupcakes, cookies, and other pastries displayed at the front counter. There's a table showcasing and selling drink cozies and scarves made by local artists and a donation box for books for the Grand Forks Public Library. Gabby Riskey, a cashier, says that one thing she's noticed since working at the bake shop is its contributions to the community.
"Other than supplying the treats for formal events and birthdays, we also give tours of the bakery to kids," she says, as she restocks the display with double-chocolate cake, a fan favorite cupcake flavor.
O' For Heaven's Cakes has also taken part in Safe Kids Day, an event hosted in the Spring by Safe Kids of Grand Forks that works to prevent accidental deaths of children, and Giving Hearts Day, which, according to their website, raises awareness and funds for more than 350 charities in North Dakota and Northwest Minnesota.
For events such as these, O' For Heaven's Cakes employees donated their time by participating in the events and cupcakes that are given to the volunteers and donors.
Along with the bake shop's contributions to the local community, Riskey says that she enjoys working in the friendly environment with customers who make the job more enjoyable.
"I work with good people who are understanding and don't mind answering my many questions."
She greets every customer who enters, waves goodbye to the ones who leave, and is patient with the group children, mouths watering as they smear their hands on the display in awe of all the cupcake flavors and can't seem to make up their mind: "Dirt? Or Peanut Butter Fudge?"
I went with one of Riskey's recommendations and one of my personal favorite desserts: the carrot with cream cheese frosting and a chocolate chip and cupcake with chocolate and peanut butter frosting.
Both cupcakes were baked to perfection and tasted as homemade as they come. The cakes were moist, the frosting creamy, and the flavors tasted much more natural as compared to the boxed cupcakes.
I especially liked how the bakery offers seasonal flavors that discern their pastries from the other places in town. Summertime favorites included Key Lime Pie, Banana Split, Orange Dream, Root Beer Float, and Strawberry Lemonade and, because the season is coming to an end, customers can drop by and get a pack of these cupcakes at a discounted rate (while supplies last).
O' For Heaven's Cakes is located in the Old Grand Forks Mall and is open from Tuesday – Saturday from 9 a.m. – 5:30 p.m.
Stephanie Hollman is a staff writer for The Dakota Student. She can be reached at [email protected]