Suits and Sway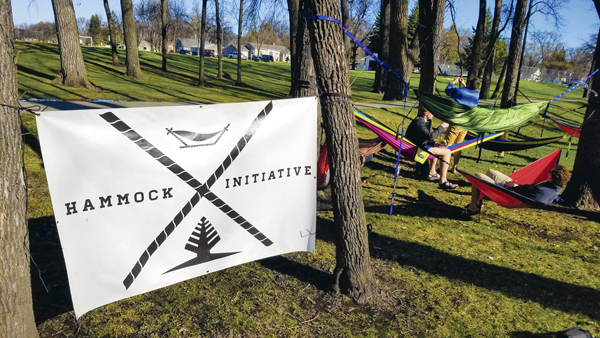 Who are they? Those kids in hammocks in the quad. What are they doing? Why are they there?
It just so happens, this group of students is more formal than they may appear.
Phil Horn, senior, is the president and co-founder of UND's branch of the Hammock Initiative.
As president of the group, he plays a role in organizing events hosted by the Hammock Initiative. While the group is prone to meet and sway spontaneously throughout the warmer months, they decided their first sway of the season was going to be special.
Last Friday, the Hammock Initiative held their first sway of spring as a formal event. The event was called the Earth Sway Formal in honor of Earth Day and their obsession for hammock puns.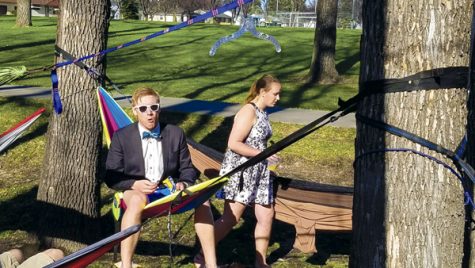 Horn describes the group as "chill" and made with a variety of personalities.
"Maybe that's where the suits come in," Horn said. "You get to see people show their inner fancy or outer fancy. Some people show up with a tux; others might show up with a funny tie."
For a few hours on a beautiful evening, less than 20 well-dressed swayers "hung out" in University Park. The night featured barbecued hotdogs, throwing a Frisbee and making hammock puns.
The UND Hammock Initiative, as they are officially called, is a formally recognized student group at UND. They have the paperwork and everything to prove it.
These "swayers" are normally found "hanging out" in the quad just outside of Merrifield, but they can be found swaying in the far corners of campus.
Those who see these students may wonder if they are even allowed to do this on campus property. Well, there are perks to being a formally recognized student group. Other perks: campus resources.
Last year, the swayers were able to purchase four hammocks thanks to money allocated to them through student government and SOFA. Many students supply their own hammocks, but the group can now accommodate any new comers.
In order to receive such resources, formality must go further than wearing a suit for one night. The group has a proper personnel structure with a president, vice president, secretary and a treasurer. This laid back group even has their own constitution.
The group also has merchandise. Upon request through their Facebook page or approaching the swayers, anyone can support them publically with hats, can cozies and stickers.
"All for our goal of spreading the sway," Horn said.
These swayers aren't the organized loiters on campus. Instead, they are students with a mission.
Luke Schields is the former president of the UND Hammock Initiative.
"In college, you're always pushed towards these scholastic goals," Schields said. "Perfect grades; having a 4.0; being a part of so many honors societies. This is kind of the antithesis of that. Being able to relax and not stressed all the time."
For students like UND sophomore Rebecca Gaida, they join because they have hammocks and enjoy hanging out. After stealing her brother's hammock, Gaida began swaying with the group earlier this school year.
The group is laid back to an almost unreasonable degree. Case in point, Gaida had to attend an awards ceremony just before the formal sway began. Meaning, in some miraculous way, 'mocking was still bent for convenience and relaxation.
Gaida sums up participation as such: "Do you like to be outside? Do you like to hang out? [If yes] then you can join."
Jacob Notermann is a staff writer for the Dakota Student. He can be reached at [email protected]