Go way back with Whitey's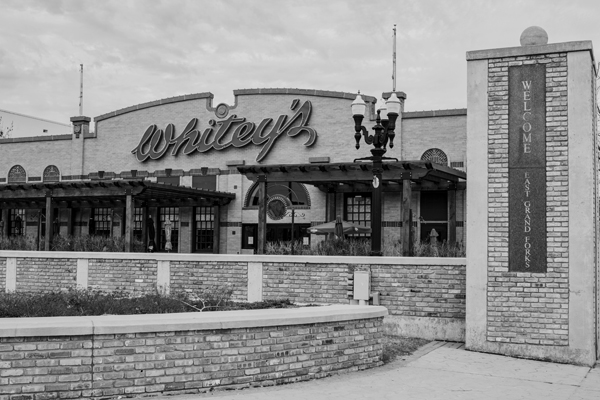 Drive over the bridge and eat some amazing food at Whitey's. If you are on Demers coming from Grand Forks, immediately after you cross over the bridge into East Grand Forks, Whitey's is the first little restaurant to the left that has a classic vintage look I'm sure many would enjoy. They still have the old-fashioned font logo and glass cube trimming around the front door.
Whitey's, as we know it today, was bought in 1930 from the Duluth Brewing Company. Before Whitey's moved to the Demers location, it was a small shack on 2nd Avenue where they sold hot dogs and fast food items. It was definitely not the nightclub bar that Whitey himself was striving for.
Even after moving locations, a lot of partying and a couple floods and fires, the original decorations and bar still remain. Whitey's actually has the United State's first ever horseshoe bar made of steel, which is the same bar that is still at Whitey's today.
In the summer of 2011, new owners took over Whiteys. They gave the place a lot of updates like new floors and walls, but the tradition and originality still shines through.
The history of Whitey's is one of the reasons why I like this restaurant so much, but of course the main reason is because of how good the food tastes.
Whitey's has a pretty large menu, filled with many different American (and a couple Canadian) food options. I ordered a Canadian appetizer called poutine, which included a bed of fries and cheese curds topped with gravy.
The poutine was good, but not great. I think it sounded better than it actually was. I love greasy, salty, deep fried food so I thought this sounded like the jackpot, but when it came out the cheese curds were not what I was expecting.
They were not the cheese curds we were thinking of: hot, breaded, and deep-fried. They were just curds of mozzarella cheese, cold, not deep-fried, sprinkled on top of our fries as if they were croutons on a salad. If I wasn't such a french fry lover I probably would have hated this appetizer.
Aside from the cold cheese curds, I usually enjoy whatever food item I order at Whitey's. For my main dish, I had the BBQ pork mac and cheese, and this was to die for. It was baked macaroni and cheese with a layer of melted cheese on top, covered in pulled pork and BBQ sauce, topped with fried onions.
My mouth is watering just writing about this dish. I was nervous it wouldn't be cheesy or saucy enough, I like my food to be very flavorful, but it exceeded my expectations. I was craving a BBQ comfort food meal and this definitely but the craving.
Whitey's is also a great place to eat in town because it is not too expensive, as well as they have daily promotions. There are lunch specials every day until 4 p.m., seniors and active military customers always get 15 percent off of their meal, happy hour is everyday from 4 to 6 p.m., and on Sunday's they have brunch from 11 a.m. to 2 p.m. and kids eat free all day.
Whitey's business hours run from 11 a.m. to midnight on Sunday through Thursday, and Fridays and Saturdays they are open until 1 a.m. Whitey's might not be the raging night club for college students on Friday and Saturday nights like it once was, but it is still a must see place in the Grand Forks area.
Jordan Hermes is a staff writer for The Dakota Student. She can be reached at [email protected]