Tuning into the Jazz Combo
On Tuesday night, an audience came together at the Josephine Campbell Recital Hall to listen to the smooth sounds of the UND Jazz Combo Concert.
The medium-sized hall, with the spotlight on the stage dramatically below the audience provided an intimate atmosphere. Everyone seemed to be both in deep concentration as they watched and listened to the performers while also looking completely relaxed in the velvet red seats, with their heads bobbing along to the beat or their feet tapping along  on nonchalantly crossed legs. The concert was performed by two sections of UND's Jazz Combo, both of which are coached by Michael Blake, the Director of Jazz studies and Professor of Applied Percussion.
The first combo included performances that featured solos by alto and baritone players, as well as Blake on the vibraphone. Saxophone players Marcie Woel and Sadie Cochrane complimented each other perfectly, and along with the complete band, played a myriad of songs that introduced the audience to jazz and its many styles.
"Stolen Moments," a jazz standard and the opening piece, was performed with the energy that  triggered the feet-tapping and nodding along to the music that remained throughout the entire concert.  "Mr. PC" was fast-paced and bluesy,  highlighting the skills of everybody not only as a musician, but as a performer.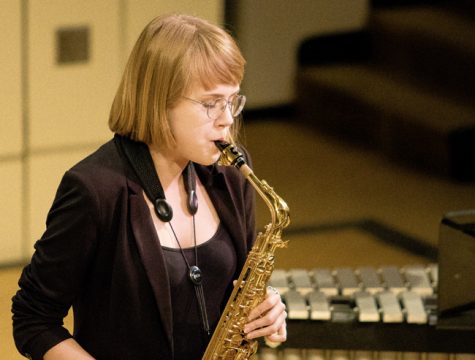 The all-male second section's performance was equally remarkable, and its dynamic  grew along with the addition of a trumpet and guitar player.  The men played their set of a variety of songs as smoothly as they dressed. From the croony ballad, "Easy to Love", to their  jazz rendition of the Sound of Music classic, "My Favorite Things," each song, complimented by the group's natural showmanship, was enjoyable.
Tom Longar, a Biology student, said. Though he admits that a few extra credit points was initially the incentive that got him to attend the recital, he enjoyed every minute of it.
"It really brought me back to my time as a jazz musician in middle and high school," he reminisced, "Though obviously we were not even close to being as good as this performance." Longar noted that to him, the best part of each performance was each group's obvious coherence. "You could tell that they spent a lot of time practicing together," he said, "They all looked really comfortable with each other."
For Cochran, a third-year saxophone performance major,  joining the Jazz combo was more than about completing a required course as part of her curriculum. It was about trying something new, particularly because prior to joining the combo, she wasn't very familiar with the genre. "I've been able to play jazz in a much smaller setting, which was new to me," Cochran said, "and I've really learned how to improvise."
Blake helped the musicians to hone this improvisation that is essential to jazz
"He goes off on these tangents while we're practicing," Cochran reflects, "He'll stop in the middle of a song and come up with new things that I would never have thought of."
For the performers like Cochran, the concert was the culmination of a semester's worth of constant improvement and practice as a musician. For the audience,  it was an enjoyable and relaxing evening of smooth jazz that was the perfect midweek treat.
Stephanie Hollman is a staff writer for The Dakota Student. She can be reached at [email protected]