What would you do?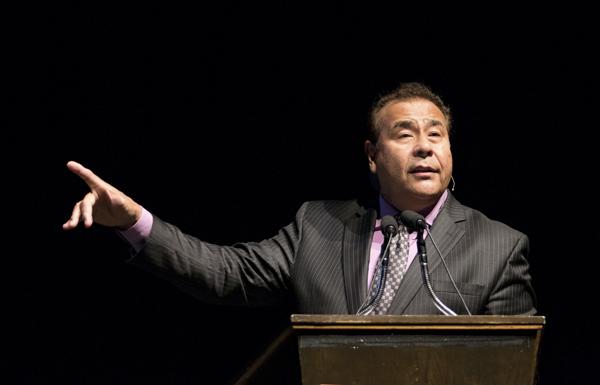 The Chester Fritz was packed with students on Monday night for an installment of the Delta Gamma Foundation's Lectureship in Values and Ethics Series. The keynote speaker for the evening was John Quiñones.
Quiñones is a news anchor and reporter for ABC News as well as the host of "What Would You Do?" the hidden camera show that places ordinary people in ethical scenarios. A seven time Emmy Award winner, Quiñones has led an incredible career in broadcast journalism.
The speaker shared stories about his journey to where he is today, as well as examples of some of the great things he's done as a reporter and TV host. He also discussed the difficulties involved with pursuing a college education and career as a minority in our country.
As a Mexican American born in San Antonio, TX, Quiñones faced challenges from the beginning. His father was a custodian and his mother worked for a home cleaning service. At a young age, his father was laid off and Quiñones and his family had to travel to Michigan and later Ohio to work as migrant farm workers. During this time, Quiñones' father asked him a question he would never forget. He said, "Juanito, do you want to do this for the rest of your life? Or do you want to get a college education?" For Quiñones, the answer was clear.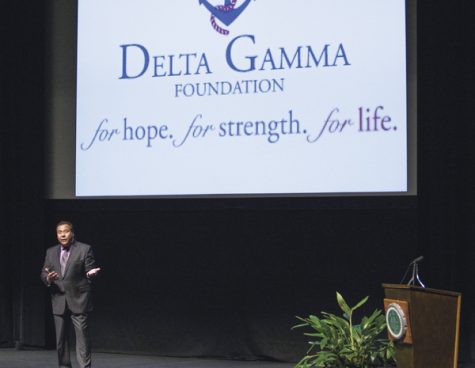 Daniel Yun
Growing up, it was Quiñones' dream to be a TV news anchor. He would watch broadcasting greats like Geraldo Rivera and Peter Jennings and he knew someday he wanted to do the same thing. However, as a primarily Spanish-speaker, Quiñones also knew that in order to achieve this dream he would have to bridge the communication gap and get rid of his latino accent in favor of a more American audience-friendly tone. Every day he would practice annunciation and delivery with any piece of text he could get a hold of, and finally he got to read his first lines on a radio broadcast, "Now available at Walgreens."
According to Quiñones, he couldn't have achieved his educational goals with "Upward Bound," a program that helps prepare inner-city high school students for college. He earned an undergraduate degree in speech communication from St. Mary's University in San Antonio, and went on to get his master's degree from Columbia University's School of Journalism in New York.
Quiñones' first TV reporting job was in Chicago. Here, he won his first Emmy for an undercover story where he posed as a Mexican, crossed the border illegally and later got a job at a restaurant that hires illegal immigrants as essentially indentured servants. He exposed the horrible working conditions for these people and soon the restaurant was shut down. This is only one example of the fantastic work that Quiñones has done in broadcast journalism.
As the host of "What Would You Do?" on ABC, Quiñones raises questions about morality, ethics and values. The hidden camera show puts normal people in situations that require them to either step in and stand up for what is morally right, or ignore the situation and keep to their business.
The question we need to ask ourselves is: if I saw something going on where I could step in or back off, what would I do? If you saw someone getting bullied for being different, would you step in or leave it be? If you saw someone downtown one night passed out on the street, would you stop and get them help, or would you keep walking? Sometimes, although the answer seems obvious, it is easier said than done.
Quiñones mentioned one woman who tweeted at him, "The world would be a much better place if we all thought that John Quiñones was in the next room with his cameras." Maybe she's right.
As the TV host put it, "It's easy to do the right thing when you know you're being watched." But what about when you aren't?
Quiñones' story goes to show that whatever your background is, we're all people with families, feelings and ambitions, and if everyone realized that, the world could be better for all of us.
Ben Godfrey is a staff writer for The Dakota Student. He can be reached at [email protected]