Jane Loscheider's mission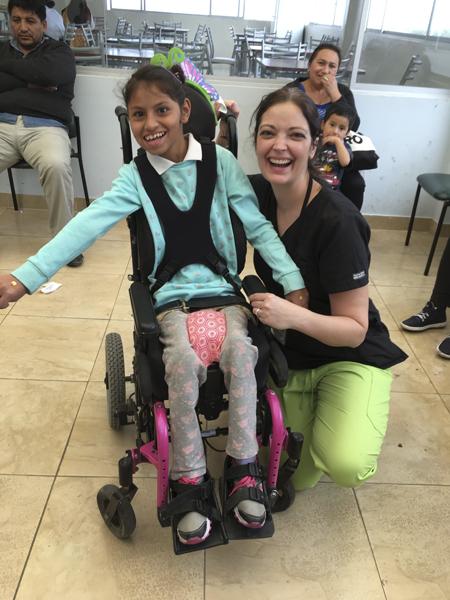 To provide medical services to those in need
When a physical therapist who had been on to Ecuador for ten medical missions gave her more information on Ecuador, Loscheider took the leap, applied and got approved.
In February 2015, she boarded a plane and readied herself for the week ahead with the certainty that many people in need would benefit from her talents.
A native of Grand Forks, Jane Loscheider has been an occupational therapist for 19 years. She received both her B.S. in Occupational Therapy and master's degree at UND, and currently teaches the class Physical Dysfunction and Practicum as an adjunct. She has been teaching for six  years and though she enjoys working with students, her true passion lies with helping patients as an occupational therapist.
When asked how she was lucky enough to find a career that she is so passionate about, Loscheider smiled and explained when she was a senior at Central High School, her priorities did not include academics. So, when she was offered a chance to go on a field trip to a rehab center, she jumped at the chance.
"They gave us a tour, and I remember vividly going through the OT department and thinking, 'That's really cool,'" Loscheider said.
With this experience in the back of her mind, Loscheider began volunteering for and shadowing occupational therapists as a UND student, which solidified her decision to become one herself.
The way Loscheider talks about her job proves that everyone has a calling. She enjoys the diversity that comes with occupational therapy because each day is different and the satisfaction that comes with helping someone return to their normal lives.
"I get a big variety throughout my day, which I love," Loscheider said, "and a lot of times, these patients get to become your family as well."
For the past three years, she has been a volunteer for Medical Mission Ecuador, in which doctors, nurses and other health professionals travel to the city of Ambato to provide surgeries and health services to children, free of charge. Though initially nervous, Loscheider has always wanted to use her talents to help others abroad.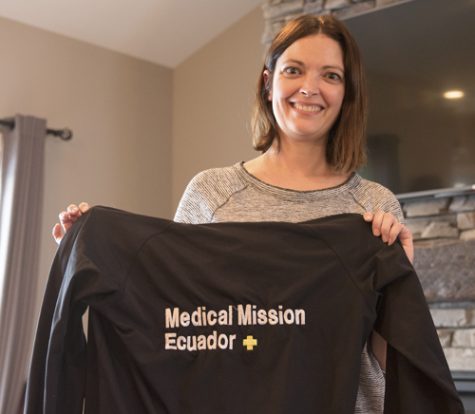 "It's a big deal to leave your home and where you're comfortable," Loscheider said, "It's a whole different story when you're going to another country."
The mission is sponsored by the Ambato rotary club which, Loscheider was surprised to discover, consists of men only. The wives of the members fundraise all year for the arrival of the volunteers, and the participating hospitals share office, medical and surgery space with them.
As an occupational therapist, Loscheider works with four orthopedic surgeons who, like herself, travel from their home country to do surgeries free of charge. As part of the therapy team, one of her main responsibilities is to organize wheelchairs from the United States and bring them to the patients in Ecuador.
Unlike the United States, Ecuador has only two styles of wheelchairs, one for adults, the other, for children. When children are put in chairs that don't fit them properly, they end up having crooked backs and many more complicated health problems than they had to begin with. So, she brings chairs from the United States and the team modifies them for the children.
This year, Loscheider excitedly said, an unusual, but graciously welcomed duo from her home state joined the team, two farmers from the small town of Grafton, N.D. They were meticulously handy, Loscheider said, and she was thankful that they were able to ease her workload and experience the fulfillment that comes with working to help those in need.
"Some of these kids have never had a chair," Loscheider said. "We had these two boys that came from the Amazon, 10 and 12 years old, and have never been able to walk. Their parents had carried them their entire lives."
Loscheider's unwavering generosity and compassion is complimented by her proactive nature.
She noted that during her first year, the families of the patients were extremely grateful and patient with the staff. "In the United States we're used to things so fast," she said,  "But these families will sit there for eight-plus hours waiting for their turn and never complain. They're so grateful for the smallest of things. They won't even get up to use the bathroom, eat or drink, because they don't want to lose their spot in line."
This extreme patience, however, pressured her to work throughout the day, without any breaks for food, bathroom breaks or any sort of rest. Loscheider takes a break because the families who were working on the chair hadn't taken any breaks themselves to keep their place in line, all day long. "I was so appalled by it that I approached the organizer of the mission and said that we need to treat these people better," she explained, "'We need to bring around some food and water, because I can't get up to eat and drink knowing that they haven't."
As a result, they started offering bananas and water to the families.
On the second day of her latest mission trip, she discovered that 27 children were in desperate need of strollers. Needless to say, at $60 for even the most basic model, strollers are not within the means of the families in need.
Loscheider set up a GoFundMe page and offered the first 27 people who donated $60 a picture of a child with their new stroller holding a personalized thank-you message to the donor. Within three hours, she was able to collect all of the money to purchase the strollers to for the children.
Since the page's creation, an outpouring of support has helped her raise a total of $3,114. She plans on continuing the program and will use the excess money for strollers and supplies for next year's mission
On her first mission trip, she arrived in Ecuador three days early to take in the sights of the foreign country and tour the capital of Quito. This year, however, as a seasoned volunteer,  Loscheider opted to skip the tours before the mission began to set up and get organized in order to prepare herself for the busy week ahead.
Now, she's the one who the newer volunteers look up to, such as an aspiring occupational therapist who lives in New York, but plans on going back to Ambato to work in the future.
Since her involvement with Medical Mission Ecuador, Loscheider has gotten close to many of the volunteers, especially the Ecuadorian translators, who use their vacation days to work with the mission. She surprises them with small presents that they're unable to get in Ecuador, such as red licorice. This year, she shared a piece of her own culture and hometown to the Ecuadorians: a Red Pepper t-shirt.
Now a seasoned mission volunteer, Loscheider reflects on how her experiences have helped her to grow as a professional and as a person.
"Definitely as a person," Loscheider said, "You come back every year and I always appreciate that we have good medical care and appreciate you know where your next meal will be. Those basic things makes you really grateful for the health system that we have. It has flaws, but it's still so much better than what it could be.
Other than just a way to make money, Loscheider's 19-years in Occupational Therapy is what people aim to get out of a career: a sense of fulfillment and opportunities to use their gifts to help those who need it. Her advice for those still searching for their life's meaning?
"If you don't find it, keep looking," Loscheider said. "You absolutely want to find something you're passionate about and follow it."
Stephanie Hollman is a staff writer for The Dakota Student. She can be reached at [email protected]