Dancing in the dark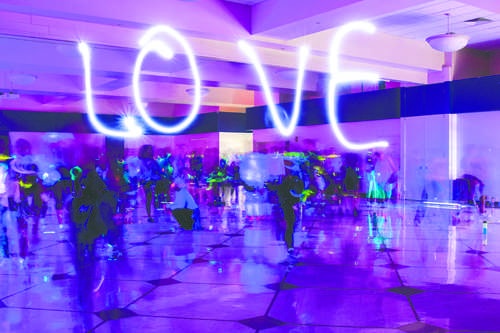 Shelby Johnson, Features Editor
January 31, 2017
The black lights and stage attached to the wall transformed the empty ballroom of the Memorial Union into a Zumba studio. The deep purple bounced off the walls and illuminated the whites of student's teeth as they excitedly talked about how much fun Glow in the Dark Zumba was going to be. The students were directed into rows and cheered as the music started. Tiffany Sonterre, a Zumba instructor affiliated with UND, made her way to the stage and seemed pleased with the turnout. Many students waited patiently for the dancing to begin.
She started with some slow movements and watched the glow sticks attached to the wrists of fumbling students as they tried to keep up with the movements. Sonterre moved with grace and empowerment as she danced along to the beat. She seemed like the perfect choice as a Zumba instructor because she didn't care if she missed a step or if her students made her laugh. She embraced the mistakes and made it her own.
Sonterre encouraged the students to scream along with the music and add in their own "yeahs" to the sound tracks. This made the experience all the more exciting. The involvement seemed to be a part of the student's own understanding of non judgment, the larger message of "Love Your Body" week. Accepting yourself and others was definitely a part of Glow in the Dark Zumba. The dancing, laughing and screaming along to the music made everyone forget about their judgemental thoughts. It seemed to make everyone accept others and themselves.
Glow in the Dark Zumba not only was a fun event put together by the Women's Center that happened to land on "Love Your Body" week. Glow in the Dark Zumba seemed to capture this idea that in the dark everyone looked the same. It seemed to put student's minds at ease because even though they may have looked silly, everyone was an equal in the dark. With no fears of judgement, students were free to dance to their hearts' content.
At the door, UND's Women's Center offered complimentary water bottles, ice scrapers, sweat towels, pins, rubber bracelets and, of course, glow sticks. These were all ways of getting the word out on the Women's Center, as the name was printed on each item.
Towards the end of the hour, students were panting and starting to move slower as their dancing started to take a toll. Their movements went from energetic and lively to become sluggish and weary, but their smiles never faded.
Even after the dance, there was a line of students waiting to talk to Sonterre to let her know how much they enjoyed her class and to thank her for such a fun and exciting take on an old workout routine. Even to let her know how much they admired her for being able to get up in front of a group of people and dance like no one was watching.
Shelby Johnson is the features editor for The Dakota Student. She can be reached at [email protected]